Essence of Ireland
Essence Productions Ltd
Theatre Royal Windsor and touring
(2011)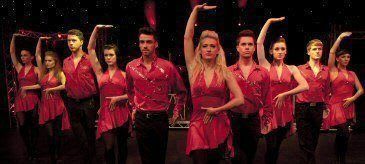 Essence of Ireland is a joyous and uplifting spectacular celebration of Irish song and dance. There is oodles of audience participation in this hand-clapping, foot -stomping, captivating evening's entertainment and I loved it.
It is also tells a sentimental love story between Sean Dempsey, born in 1930 in Dublin, and his lifelong sweetheart Cora McGowen, born on her grandmother's kitchen floor in Gort, County Galway.
Times were exceedingly tough in Sean's early days but whilst holidaying in Salthill he met Cora and fell head over heels in love with her.
Jobs were hard to find in Ireland so Sean settled in Cricklewood, England working as a labourer, the start of a sixty-year parting from his beloved Ireland.
His uncle Benjie managed to get Sean a job with the New York Police Department and all the while he kept corresponding by letter to Cora. He eventually married Mary and had three boys, living a good family life and became a grandparent before finally retiring to take a road trip across America.
His true desire was to return to his native Ireland and have one last dance with Cora.
This heart-warming story is narrated by creative director and wonderful musician and singer Ged Graham who played his guitar and bodhran with passion and sang some of the best-known Irish ballads such as The Irish Rover and Molly Malone with complete sincerity.
The high energy skilful Irish dancing is a sheer delight delivered with enthusiasm and precision by a talented troupe headed by Ross Logan and Lianne Stubbs.
The American Hoe Down and the tribute to Stomp with the cast performing on dustbins and using brushes was both dynamic and exhilarating.
Leanne Thorose's fiddle playing was filled with vitality and exploring the virtuosity of the tin whistle was Caroline Regan - pure magic.
At the heart of Irish music is that relentless beat that penetrates your very soul and Barrie Cooper's percussion playing was simply superb together with Liam Holmes's powerful arrangements and keyboard skills.
Louise Gale sang her heart out in the number Raise Me Up and provided many of the impressive solo vocals.
Special mention to 9 year old Damhasa Dreams who was a finalist on Sky1's Got to Dance who shone in her solo bravura routine.
With sparkling costumes and stunning lighting effects this 'feel good' show left the appreciative audience with smiles all round and a spring in their step as they left the theatre.
Do catch this sensational show on its tour and enjoy the 'Craic'. You will not be disappointed.
Touring until September 2012
Reviewer: Robin Strapp