The Establishment
Jessica Woolf
Crescent Theatre Workshop Production
Etcetera Theatre
(2008)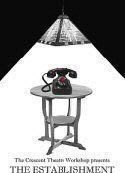 We're in the future .I think. Society had been taken over by some sort of dictatorship .I think. The future of society depends on women rapidly reproducing .I think.
Jessica Woolf's play The Establishment hints at all these ideas but is aggravatingly vague in the execution of them. Set in some sort of an office, a group of women debate their situation. It seems that the function of the female race has been reduced to breeding and the consequences are devastating for anyone who violates this law.
What is not clear is, why? What has happened to society for this to happen? I presume it is some sort of consequence of more and more women following career aspirations and delaying child birth, but this is not really explored. There is no sense of who these women are or where they are. Again, perhaps to portray how the differences in women have been eliminated reducing them to nothing more than reproductive organs. Yes, you have the funny one, the stern one, the slightly mysterious one but these are all very one dimensional characteristics with no depth to them.
As the questions remain unanswered, one very quickly looses interest in the discovering the answers. The tense atmosphere is evident, but the entire play hinges on this feeling. The performance is all very much on the same level with no real highs or lows, even though the action suggests otherwise.
Death of a Maiden this ain't and whilst young theatre companies should be praised for their drive and commitment to producing their own work, the future of this particular production is unfortunately as bleak as the dystopian society they've tried to depict.
Until 21st August
Reviewer: Rachel Sheridan