Estate Walls
Arinze Kene
Inner City Theatre
Oval House Theatre
(2010)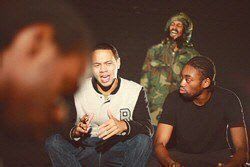 Written by the artistic director of Inner City, the British-born son of Nigerian parents, this world premiere of Estate Walls is the opening play in the OMO Festival with which Oval House is celebrating the fiftieth anniversary of Nigerian Independence and which will also feature staged readings of three other plays by Nigerian writers and a debate about Nigeria in British theatre.
Estate Walls is set on a Hackney housing estate around the wall that forms the meeting place for its young people - and with the ground floor of a block of flats, worn grass and concrete James Cotterill's set makes this feel like an on-site event and though all the characters are black and one of them plays the black card claiming added disadvantage, this could be about any trio of unemployed young men caught up in the under-culture of petty-crime and trapped within the metaphorical walls that limit their opportunities and aspirations.
It's a play that doesn't set out to explore reasons or offer solutions. It presents things as they are and as its characters see them: twenty-year old Cain, who has already been in prison and his mates Myles, who may lack reading skills but is lively and eager and becoming obsessed with taking videos on his mobile, and Obi, who obviously paid more attention in the classroom and secretly writes poetry. I know, that sounds somewhat cliché but Kene's writing is so lively and director Ché Walker gets such stunning performances from Daniel Green. Ricci McLoed and Daniel Norford in these roles that that is not how it comes over.
His friends, who just don't see themselves as part of the world of work and responsibility, are planning a heist of some kind but Obi wants none of it, he's signed up to join the navy as an engineer on a submarine. Cain's girlfriend Chelsea (another vigorous performance from Sophie Benjamin) is working in a youth club and threatening to drop him if he doesn't change.
There is a Romeo and Juliet balcony scene moment for Chelsea and Obi, creating tension between the men as the action dramatically spirals. By the close there has been change, but it has taken tragedy and the intervention of Huss Garbiya's crazy crack-head Reggie to bring it about and Kene doesn't really show us how it happens, only the incident that shocks the young men out of their empty bravado and into sense.
Run ends 9th October 2010
Reviewer: Howard Loxton