Eugene Onegin
Pytor Ilyich Tchaikovsky, Libretto by Tchaikovsky and Konstantin Shilovsky, Based on Alexander Pushkin's verse novel
Met Opera on Demand
Metropolitan Opera House, New York
From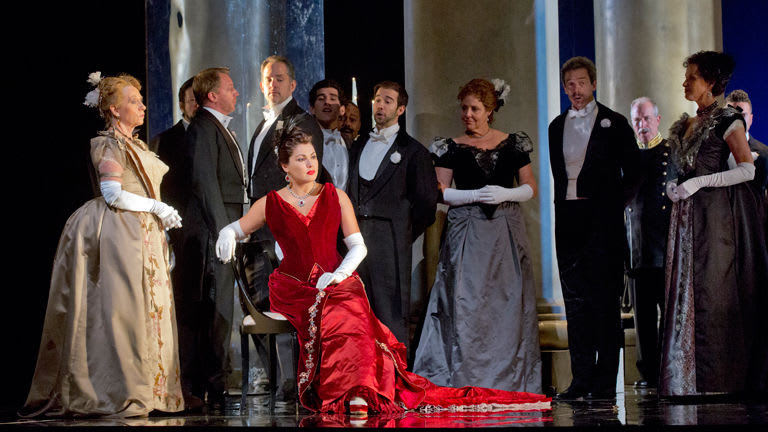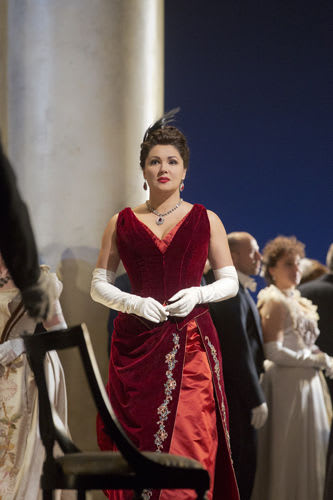 Eugene Onegin, Alexander Pushkin's great novel-in-verse, has been hugely popular with the Russian public ever since it was published between 1825 and 1832.
Tchaikovsky, who admired the richness of the poetry and its humanity and simplicity, was excited about turning it into an opera. "I am," he confessed, "in love with the image of Tatiana."
Tatiana is the sad and silent young woman, who falls in love with Eugene Onegin because she naïvely thinks he is the ideal romantic hero. She's a daydreamer whose ideas on life and love come from the romantic fiction she reads.
She pours her heart out in a long letter, asking him to marry her, only to regret sending it, fearing she will be humiliated. Onegin turns her down because he wants to remain a bachelor and knows the marriage wouldn't work.
Ironically, in the middle of writing the opera, Tchaikovsky himself received a letter from a woman saying that she loved him. He made the fatal decision to embark on a marriage because he did not want to emulate Onegin, who, to him, seemed cold, heartless and cynical. The marriage was a disaster. (Tchaikovsky was homosexual and had been in relationships since his student days.) He had a nervous breakdown and he fled to Switzerland and Italy to recover and resume writing the opera.
The music is beautiful, tender, honest, true and heart-breaking without being sentimental. The opera had a number of try-outs, the first with students in 1879, which were not successful because audiences who had come for an opera found they were watching real life and wanted something more theatrical and grandiose with the big set pieces they were used to. Eugene Onegin finally opened in 1884 in St Petersburg and it was a hit with the public, though not with the critics.
This revival of Deborah Warner's production, directed by Fiona Shaw and conducted by Valery Gergiev, was performed at The Metropolitan in 2013 with Anna Netrebko as Tatiana, Piotr Beczała as Lensky, Mariusz Kwiecień as Onegin and Alexei Tanovitski as Prince
The story, emotionally involving, has been updated to the end of the century and set during Tchaikovsky's own lifetime. The singers, in excellent voice, are excellent actors and Warner's admirable production is so naturalistic you could be watching a play not an opera. Every move feels so right.
There is exciting drama at Tatiana's birthday party when Onega openly flirts with Olga (Tatiana's vivacious sister) and Lensky, her lover, jealous, overreacts and challenges Onegin to a duel. Seven years later, Onegin returns from his travels abroad and is amazed at Tatiana's transformation into a serene, sophisticated, confident aristocrat. He is infatuated.
There are so many high spots: Lensky rapturously declaring his love for Sonia; Tatiana writing the letter, a tour de force; Lensky just before the duel, knowing he is going to die, ineffably sad; and Prince Gremin expressing his deep love for his wife, Tatiana, who has brought him so much happiness.
And then there is the superb final scene with Tchaikovsky and the singers getting more and more operatic and a distraught Onegin going down on his knees, pleading with Tatiana to leave her husband and come and live with him.
There are a number of ways of tapping into this opera and others at will. The Met Opera On Demand service offers annual ($149.99) and monthly ($14.99) subscriptions as well as a one-off payment ($4.99) for those who have limited time or only want to watch the occasional opera.
Reviewer: Robert Tanitch