Eugene Onegin
Pytor Ilyich Tchaikovsky, libretto by Tchaikovsky and Konstantin Shilovsky, based on Alexander Pushkin's verse novel
Met Opera on Demand
Metropolitan Opera House, New York
From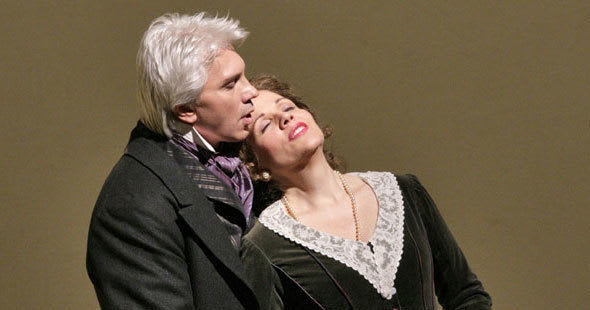 Eugene Onegin, Alexander Pushkin's novel written in verse between 1825 and 1832, is about Onegin. Tchaikovsky's opera, which premièred in Moscow in 1879, is about Tatiana and her transformation from girly teenager with a crush to a mature woman.
I remember a production by Peter Hall at Covent Garden, which was so realistically detailed and emotionally so involving I felt I was watching a play by Turgenev or Chekhov.
Tchaikovsky's music is beautiful, tender, honest and heart-breaking, without being sentimental. He needs singers who can act as well as sing and in Robert Carsen's production conducted by Valery Gergiev, which was seen at The Met in New York in 2007, he gets them.
Renée Fleming is Tatiana. Dmitri Hvorostovsky is Onegin. Ramon Vargas is Lensky. I was initially disappointed by the stylized artificiality of Michael Levine's designs but gradually got used to them, when the leaves, which initially covered the stage (very Pina Bausch), were swept aside and finally completely away to be replaced by a space ringed with chairs.
Tatiana, a daydreamer who laps up romantic fiction, falls in love with Eugene Onegin because she naïvely thinks he is the ideal romantic hero. He is in fact an arrogant, selfish, world-weary, cynical dandy. Impulsively, she pours her heart out in a long letter, asking him to marry her and then regrets sending it.
Renée Fleming, in glorious voice, looks as if she might burst into tears at any minute. Onegin turns her down, knowing the marriage wouldn't work. Socially, he feels out of place in the provinces.
Dmitri Hvorostovsky, with his distinctive silver hair, cuts a handsome aristocratic figure (he has a bevy of servants to dress him each morning). He has the voice, the hauteur and, later, the remorse.
Tatiana's birthday party is particularly well-staged. Onega openly flirts with Olga (Tatiana's vivacious sister) and Lensky, her lover, jealous, overreacts and challenges Onegin to a duel. Lensky knows all about the pain of unrequited love and Ramon Vargas's low-key performance is highly effective. The actual duel is played out on a bare stage and in silhouette.
Seven years later, Onegin returns from his aimless travels abroad and is amazed at Tatiana's transformation and sophistication. She is married to a Prince. Their final scene is brilliantly sung and acted. She still loves him but she won't desert her husband. She rejects him as he had rejected her and leaves him devastated.
Fleming and Hvorostrovsky had acted together many times. Their chemistry is highly visible and their physicality gives the highly charged farewell its reality
There are a number of ways of tapping into this opera and others at will. The Met Opera on Demand service offers annual ($149.99) and monthly ($14.99) subscriptions as well as a one-off payment ($4.99) for those who have limited time or only want to watch the occasional opera.
Reviewer: Robert Tanitch