Eugene Onegin
Tchaikovsky
Metropolitan Opera HD live
Picturehouse, Stratford-upon-Avon and other venues
–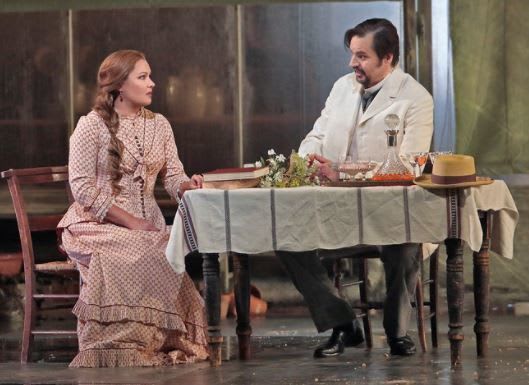 They've always done it big in New York, and where but the Met could mount a production grand enough to capture the vastness of the Russian steppes?
You could almost smell the fungus in the birch forest at the opening of this spectacular representation of the Larins' large but far from wealthy estate in a sweeping rural backwater.
But even this great canopy, with serfs flocking to sing and dance as they brought in the harvest, seemed barely adequate to accommodate the sound and expansive personality of its greatest star, that definition of a diva Anna Netrebko.
In 15 years with the Met, the voice has matured to become one of the most thrilling in opera today. She was at her magnificent, heart-stopping best as Leonora in Verdi's Il Trovatore in 2015 and in this relay she is as wonderful as ever, and on home ground, as the dreamy Tatiana infatuated with the indifferent and aloof Onegin.
Like the greatest sopranos in history, she combines those hard to match qualities of depth in the upper register and clarity in the lower, with perfect enunciation of each carefully articulated syllable.
But while the vocal technique has progressed in America, her acting style has remained stuck in a bygone age. Tatiana is admittedly a silly, immature girl in act one, but Netrebko's exaggerated gestures, including the ridiculously frenzied writing of her love letter to Onegin, reminded me of those silent film stars whose actions had to compensate for the impossibility of speech. If she had to pass the salt, I imagine it would not be without a desperate, forehead-clenching farewell.
Director Deborah Warner, rather as David McVicar did in Il Trovatore, keeps our heroine out of trouble in the final act—and achieves much greater dramatic effect thereby—by having her carry a muff to constrain those over-demonstrative digits. Tatiana has now become the dutiful wife of another, so she might argue that the earlier over-acting highlights the change. Nevertheless, while one cannot get enough of Netrebko the singer, when it comes to her acting, less is definitely more.
Peter Mattei employs his great plummy baritone and dramatic versatility to great effect as Onegin, lecturing Tatiana like your least favourite teacher, nonchalantly arriving for his duel with Lensky eating a snack, but chastened and humbled, falling at the heroine's feet before the final curtain.
Alexey Dolgov, surely a rising star at the Met, is a lyrical Lensky, pouring out his passion in the manner of that young poet, before dying tragically in exactly the manner that would take the life of Pushkin, his creator.
This essentially British production, designed by Tom Pye of English National Opera, was conducted with great verve by Robin Ticciati, Glyndebourne musical director and just 34 this week. What talents we enjoy, even if it sometimes takes American finance to take advantage of them.
Reviewer: Colin Davison