Eugene

Daniel Nicholas, Ingenious Fools, Pleasance and York Theatre Royal
Pleasance Courtyard
–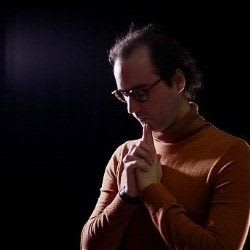 There's a particularly unfortunate irony, to a theatre company performing a play about a piece of flawed technology putting things in jeopardy, and that play itself being reliant on technology which itself fails the performance. But tragically, that is the case with Eugene.
Taking a satirical swipe at the Jobs, Gates and Musks of this world, the play tells the events of a live product unveiling, where technology whizz Hugh is showing off the titular Eugene, a Super Artificial Intelligence. This magical box will manage to save mankind from wasted energy and climate change by hooking directly into the grid and taking decisions out of the hands of humanity. Of course, it's not that simple, and throughout the play, the AI can talk directly to the audience via a smartphone app, as well as affording them some limited input into various moments in the show.
The issue comes when some large parts of the performance rely entirely on the app, which wouldn't work on the devices of most of the audience in the showing due to a venue technical fault, meaning that for various points throughout the play, and most of the finale, two tables of punters were chortling away in a sea of otherwise, near-silent and confused patrons.
On the face of it, it's a pretty nice idea, and probably quite fun if it worked. What's more, the opening of the play facilitated the same device but used a TV screen onstage, begging the question of why this hadn't been in place as a back-up. Otherwise, the play was moderately funny, although the loud and shouty performance of the manchild-like Hugh did grate after a very short while. This however, may be mitigated by the "app" comedy, but without ever seeing that it is impossible to tell.
While I'm sure that the company has made great efforts to repair or circumvent the technological issue for future performances, in the state I saw the piece, I cannot recommend it.
Reviewer: Graeme Strachan