Eunoia (Group One)
Sebestian Ross, Cathy Jansen-Ridings, Tom Langton and Ashley Driver
Chickenshed
Chickenshed
–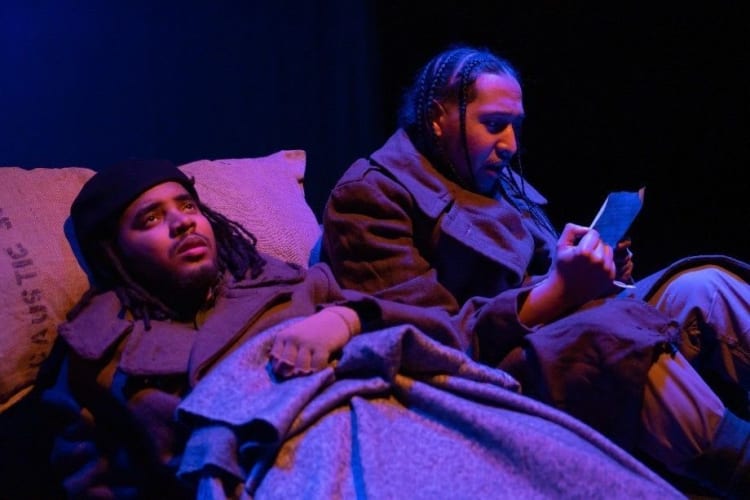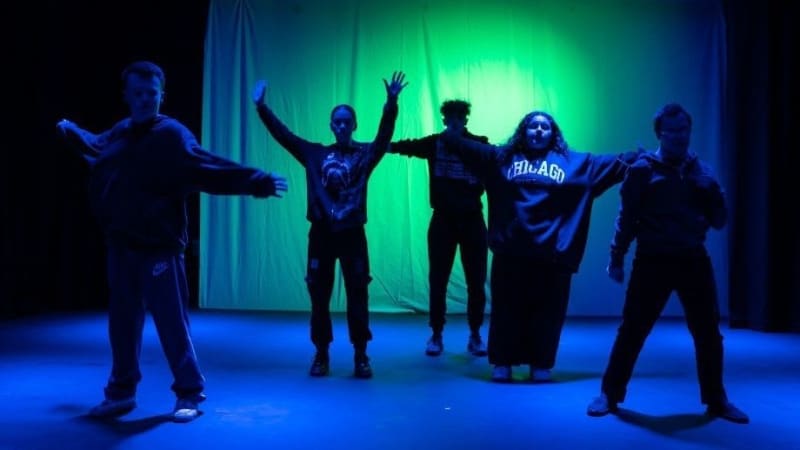 The word eunoia is said to carry the meaning of ethical goodwill, and there is certainly a good deal of that in the latest set of short plays being performed across two groups at Chickenshed.
The two characters in Pruning by Sebestian Ross are unlikely companions. The youth dressed in black with a hoodie, who wanders into Edith's garden, has been sent there for a bit of rehabilitation after a spot of vandalism. Chatting on his phone, he seems fairly uninterested in the garden, but Edith guesses from one of his comments that he has in the past more than a passing familiarity with plants.
Both are preoccupied with a loss. Edith has been drinking a lot of gin as she mourns the death of someone close to her. Nathan is still upset by his parents' divorce. Despite this and Edith being much older than Nathan, they begin to talk and help each other reconnect with the world. It's a gentle, optimistic, believable story.
There is a mischievous edge to Astonishing Light by Cathy Jansen-Ridings. Before the drama begins, the actor Shiloh Maersk who plays the character Gabe asks the audience to carry out a task on paper that he refers to as "a magic trick" he will return to later.
Gabe then enters the scene of the waiting room at a cosmetic clinic, where he strikes up a conversation with Benedict (Daryl Bullock) who is due to have an operation on his nose. As they talk, Benedict finds his feelings about surgery begin to change. There is a touch of humour to this playful piece, whose message connects to those things we earlier wrote on paper.
The mood of Tom Langton's Fairy Dust is very different. There is a fierce sense of injustice to the set of short monologues interspersed with impressively choreographed dance sequences from an ensemble of six performers. They reveal the troubled life of a 'queer kid' who has been on the receiving end of prejudice that includes a terrible beating from a group of men. Yet, despite this, there is a hopefulness about his determination to define his sexual identity.
The most moving of the twenty-minute plays is Ashley Driver's Answer The Call, which opens to a projection of a First World War British poster appealing for young men to enlist in defence of the British Empire.
Nathaniel Leigertwood as Fabian and Demar Lambert as Felix sit in a military camp somewhere in England. They were recruited from the West Indies and are weary after the long journey by sea. Both have already experienced racist abuse against the colour of their skin. Fabian points out that where he "comes from there's not an abundance of white people but you don't get them being abused" the way they have been.
Even before they reached the actual war, some of their companions have died either on the cramped vessels or in the camp where influenza is taking its toll. In England, their work seems to consist of cleaning out latrines and making breakfasts. All this seems at odds with the hope of one of them that by volunteering to fight they would inspire respect from a country that had once owned their grandparents as slaves.
The piece ends with film footage of Seaford Cemetery where many of these recruits were buried. It's a powerful story that everyone should see.
The Eunoia project lists nine plays to be performed over two separate evening shows. Unfortunately, COVID has disrupted the schedule. If there is a particular piece you are wanting to see, you might want to check with the box office.
Reviewer: Keith Mckenna