Eureka Day
Jonathan Spector
The Old Vic with Sonia Friedman Productions
Old Vic Theatre
–

Listing details and ticket info...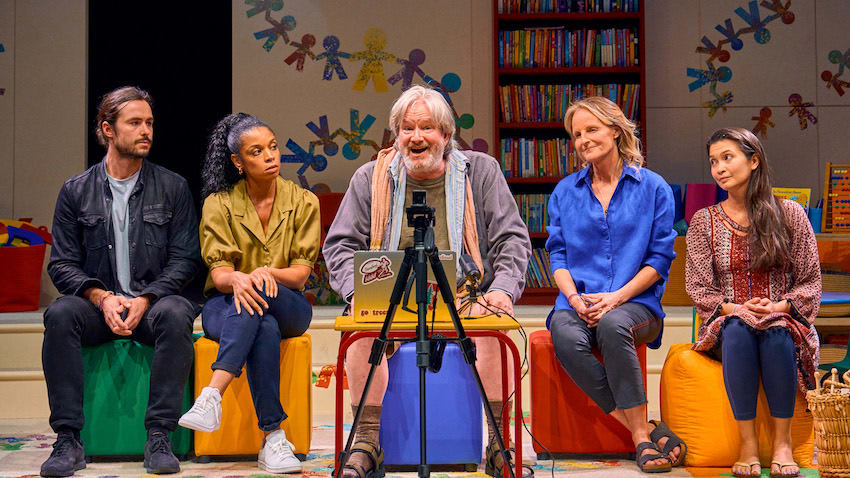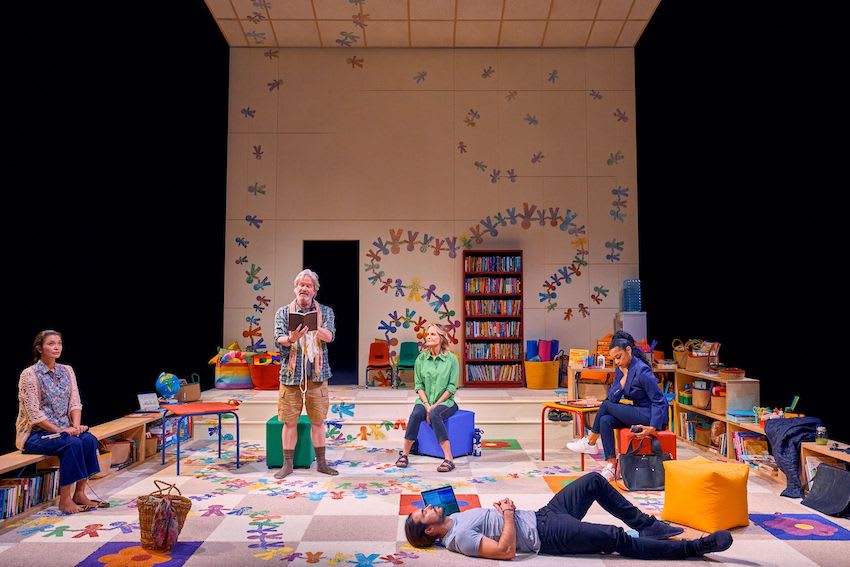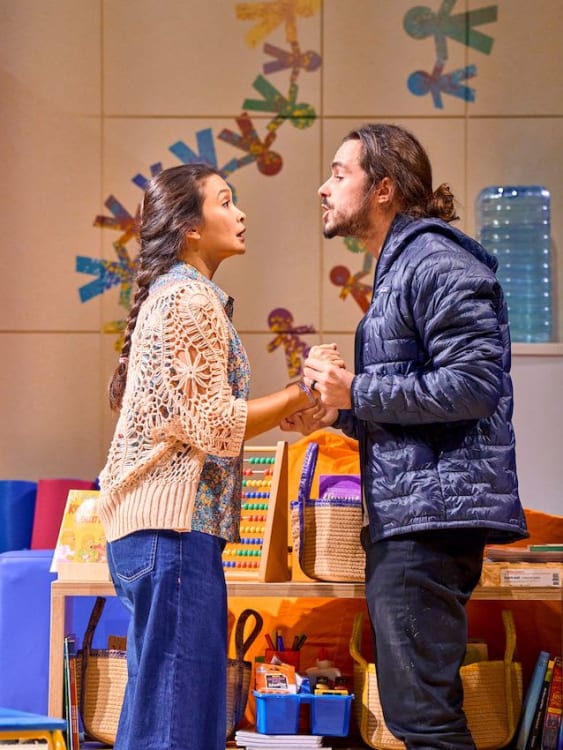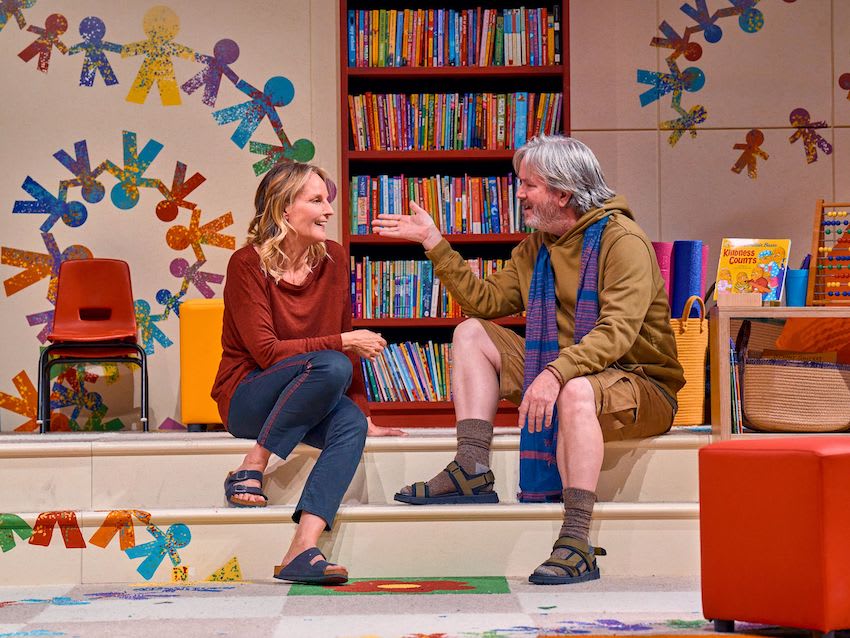 Eureka Day isn't a date on the calendar but a school: a private, fee-paying, primary school in Berkeley California where the Aurora Theatre Company, which commissioned this play, premièred it in 2018.
It is a satire, so boldly sketched one might say send-up, of the woke, post-hippie 'liberal' political correctness of the kind of community it is set in and of the dangers of digital disinformation and fake news.
It is set in the school library with its infant-sized furniture. Designer Rob Howell has patterned every surface with colourful chains of cut-out kids that video designer Andrzej Goulding animates at every scene change.
It is here that the school's volunteer Executive Committee meet, a well-meaning set of parents led by grey-haired Don, one of the school's founders, who likes to start every meeting with a reading from Sufi mystic Rumi and a few moments' contemplation. In khaki shorts, long socks below bare knees and sandals, with a scarf looped over his shoulders even indoors, Mark McKinney beautifully captures his well-meaning inefficiency. As they explain to new member African-American Carina (Susan Kelechi Watson), who took her bright child out of their last school because it could not meet his special needs, they don't vote on things but make decisions by consensus, which can make meetings protracted.
First on the agenda is the contractor's delay in installing new cubicles in the pupils' lavatories following the decision to make them gender neutral, then there is the question of the drop-down menu on the school application form with its list of ethnicities—it is full of PC posturing.
Things take a more serious twist when they meet to decide on their action after a pupil goes down with mumps. Do they follow local health authority procedures about vaccination and quarantine as detailed in the instructions they are told to send out?
It turns out that some of the parents, including two on the committee, are anti-vaxxers. Consensus isn't going to be easy. Are the big pharmaceutical companies telling the truth? What will keep their children safe. Jonathan Spector wrote Eureka Day before COVID, but the pandemic makes this extra relevant.
They decide on a "Community Activated Conversation" to be held online open to all parents. That provides a few laughs at Don's techno naïvety but, as participants begin to join in the chat chain that is projected onto the rear wall and ceiling, it becomes hilariously funny. For nearly a quarter of an hour, audience laughter drowns out the dialogue as petty chitchat builds into outrageous insult. Gosh, that feels good!
After the interval, there are darker clouds as we discover the personal reasons that make tech millionaire and stay-at-home dad Eli (Ben Schnetzer) an anti-vaxxer. His philanthropy has helped support the school, it needs him. A past tragedy in the life of school co-founder Suzanne explains her anti-vax attitude. Oscar-winner Helen Hunt (making her UK stage debut) reveals the real person behind this humourless woman, used to people accepting her opinions but now faced with opposition from Carina.
Through every meeting, single-mum May, who has been having an illicit affair with married Eli (a side story that isn't developed), steadily knits her way through every meeting. Kirsten Forster makes her a shy presence in the background but her needles flash faster and more aggressively as, increasingly irritated, she builds to a final explosion.
Eureka Day is hilariously funny but, though director Katy Rudd makes the most of the humour, it doesn't offer new insights. We know what a shambles online meetings can become, we are surely alert to the dangers of untruths on the Internet—but it is a long time since I have laughed quite so long and so loudly.
Reviewer: Howard Loxton