Eurobeat - Almost Eurovision
Craig Christie & Andrew Patterson
Novello Theatre
(2008)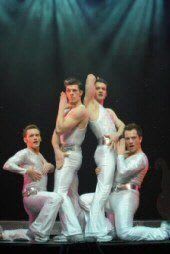 After a wodge of very serious theatre with nine hours about the victim of international sex-traffic, the bombing of Dresden and the problems of a South African township, all in two days, a little light relief is welcome and Eurobeat fitted my schedule nicely before going on to more serious fodder. It is an Australian creation that affectionately cocks a snook at the Eurovision Song Contest (which apparently has a strong following down under) and has already had a popular success on the Edinburgh Fringe last year.
When the Eurovision Song Contest first began, in those long ago days when the European Broadcasting Union was more than a technology resource and actually involved creative and artistic co-productions between its members, it was an interesting innovation in a popular field. With the growth in membership and the Balkanisation (for want of a better word) of eastern Europe, it has grown unwieldy and increasingly meaningless as juries now seem to vote strategically for friends or neighbours irrespective of the quality of the songs. You don't have to send it up, the whole thing has become a satire of itself with Britain's Terry Wogan's commentary deliberately making it seem ridiculous. I can't think of anything more contrary to the original spirit of the Union that his appalling xenophobic comments.
We get Wogan (on video) at the opening of this show too, assuring us that we are going to have a good time, something he tells us he can say because he isn't there. And mercifully he isn't, there is no voice-over commentary. There is no need, we are supposedly ourselves in Sarajevo watching it live, with Bosnian hosts Sergei (Les Dennis in a gold lame jacket and a bad wig), who fronts a morning children's television programme with a goat, and Boyka (Mel Geidroyc got up in more rouched gold than a Baroque Christmas fairy), former Bosnian pole-vault champion and now anchor-woman for current affairs and lifestyle shows with a cackling laugh to follow the bad jokes about contestants that they make instead.
To get everything going they lead the audience in practice cheering and waving clackers (easier on the hands than clapping) and the national flags of the country you are going to support and, for once, you are asked to leave your mobile phone turned on - you're going to need it when it comes to time to vote! This is very much an interactive show. It is also, thankfully, a little shorter than the real-life Contest with only ten countries in competition. The others, including France, just didn't make the grade. There is an attempt at parody in the contestants we do see, though hardly of the contemporary scene with AVLA foursome from Sweden singing 'The Same Old Song,' a Bjork-like ballad from Iceland sung by a slight figure submerged in a dress of fluffy feathers, a Kraftwerk style piece without a lyric from Germany, a Nana Mouskouri look-alike in glasses who then surprisingly began to strip, a very ethnic number from Hungary, a folksy Oirish song - very popular with the audience that, Poles who start of with briefcases before revealing plastic leotards, the UK, introduced as the originator of Parliamentary democracy and football hooligans, presents a boy with a Mohican and chain-hung trews paired with a girl sporting a plastic umbrella (plus a quite magical effect with soap bubbles filling the theatre), while an Italian group kicks of the proceedings with a snatch of operatic aria that turns into a disco beat as they start taking off their shirts.
Bare flesh is much in evidence, along with plenty of glitter and straining crutches tightly wrapped. It is not exactly sophisticated in its humour, more a celebration of Eurovision's camp, not least in the choreography of Natalie K. Marsland and Andrew Hallsworth which singers and backing groups execute with just the right tongue in cheek bravado. The deliberately over-the-top dresses and set design are by Richard Jeziorny and the dazzle of Trudy Dalgleish's colourful lighting pushes things up another notch. Amplification and fractured English that make presentations and lyrics sometimes incomprehensible are all part of the package. The skill here lies in not getting it quite right.
Tasteless? - of course it's tasteless. That's the point. And of course one shouldn't laugh at silly foreigners - except we are just as much laughing at the Brits and Irish and are really laughing at ourselves for going along with such rubbish - but rubbish that's packaged with style and, given the right mood in the audience, will send them home happy. It probably helps that you can take drinks into the auditorium, though with so may other things to do with your hands you'd better drink them quickly! This show doesn't pretend to be more than a bit of fun and I had a good time.
Until 15th November
David Ducasse reviewed this production on tour in Newcastle
Reviewer: Howard Loxton