Evelyn
Tom Ratcliffe
Wildcard in association with Mercury Theatre
Southwark Playhouse (The Large)
–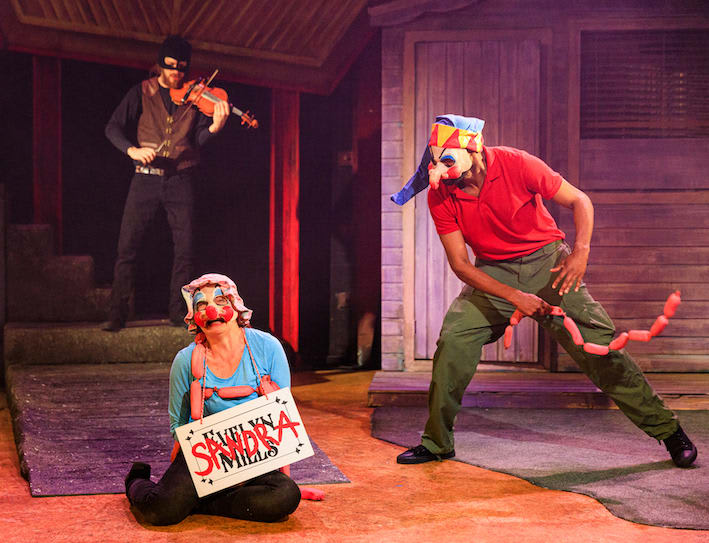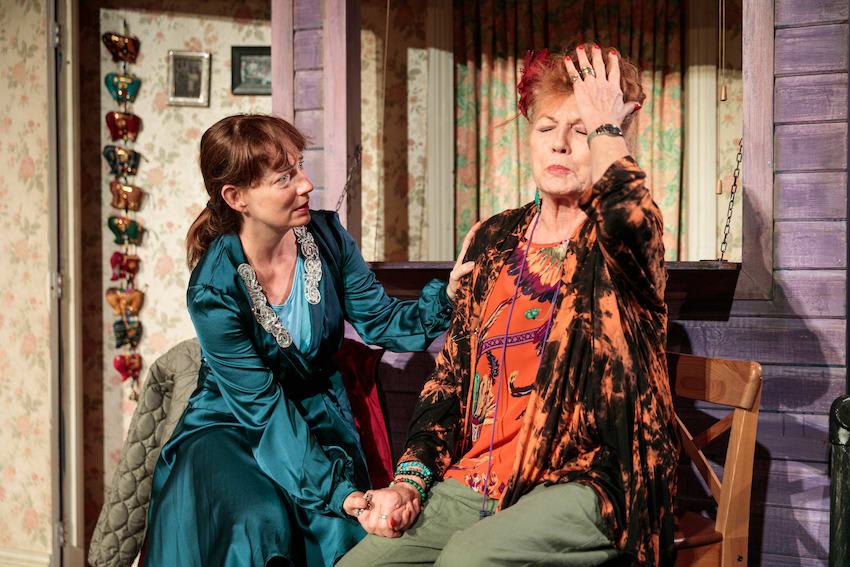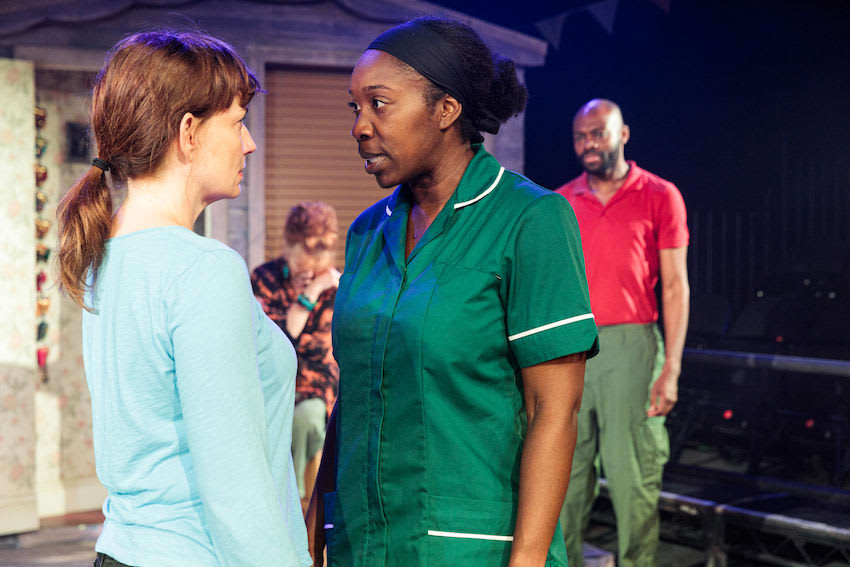 The characters of a traditional Punch and Judy show open Tom Ratcliffe's new play: Punch (Offue Okegbe) and Judy (Nicola Harrison) plus the Crocodile (Yvette Boakye) and hangman Jack Kvetch (Michael Crean).
They get the audience to join in a clap-along before announcing they will tell us a story like a real life tale we know well, then hanging labels around their necks naming them as Thomas Sampson and Evelyn Mills and a stuffed-rag baby that is thrown on Grace Chadwell while Punch bashes wife and baby with his slapstick. It looks as though we are in for a play about domestic abuse and indeed his female characters all seem to have experienced abusive relationships, but the play's publicity says it is about mob justice.
Next we find Nicola Harrison as a woman with a suitcase (we'll discover she's called Sandra) who is concerned to find out that the one-bed flat she thought she was going to move into is actually room in an apartment in a sheltered housing complex which owner Jeanne isn't supposed to sublet.
As Jeanne, Rula Lenska captures the kind of arrogance that hides insecurity; she's a woman who is lonely and on the edge of dementia but perceptively talks of understanding what caused her own husband's violence. Laura (Yvette Boakye), the care worker who checks up on Jeanne, senses something not ringing true about Sandra. Is it just that she's not really Jeanne's goddaughter (as they pretend so as not to break resident's regulations) or something darker?
In contrast, Laura's brother Kevin (Offue Okegbe) takes Sandra on trust and falls for her, but the problem is, do we believe any of it? Sandra and Kevin are drawn together, they are both looking for love, it's an acceptable cliché, but Jeanne and Sandra's situation seems far-fetched and it's not helped by the Punch and Judy chorus who it turns out are not matched with these characters but to a child killer, Thomas Sampson, and Evelyn Mills, the woman who gave him a false alibi and his victim.
The opening fails to explain that. Though the seaside entertainment chorus feed in more information combined with projected social media exchanges, it remains rather obfuscated. The deliberate distortion to create Punch and Judy voices and largely illegible projection make it hard to understand and consequently fail to suggest a suspicious community reacting to the idea that a convicted criminal has moved into their neighbourhood, a woman who could be Sandra. At one point, the puppet quartet perform a maypole-like dance with strings of sausages: it brightens things up, but how does it fit in?
I wasn't able to make press night and saw a performance with a very thin house which didn't help this thrust theatre's sometimes challenging acoustics, but this ends up a production that shows up the play's problems. Rather than mob justice via social media, this begins to look more like vindictive jealousy of a brother's happiness. Sandra understandably sometimes looks lost and verging on panic and that seems to sum up the play, but perhaps there is a different drama trying to break through.
Reviewer: Howard Loxton