Evening Conversations / Life Laundry
Sudha Bhuchar
Bhuchar Boulevard
Jermyn Street Theatre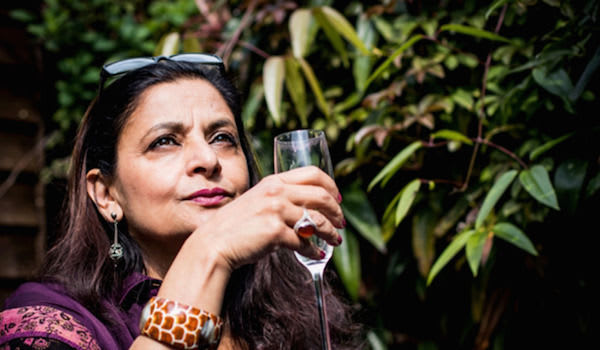 Sudha Bhuchar's double-bill, presented as part of Jermyn Street's Footprints Festival, is inspired by her own life and conversations with her sons. Evening Conversations, a generational view of life first seen in 2019 and developed since, is now joined by Life Laundry (getting its world première), which sees things through the eyes of a younger generation. It is a very appropriate pairing given a simple but lively production directed by Kristine Landon-Smith.
Evening Conversations is presented as a chat between the actor / dramatist Sudha Bhuchar and her audience. It may be based on autobiographical material but it is a carefully structured piece of performance from confiding in the audience that she feels the need to put on some make-up to the sharing of family history and argument.
She establishes a very relaxed relationship admitting to moustache removal and the need to cover up warts "as if being an Asian actor of a certain age weren't enough." But, as she says quoting Orwell, "you get the face that you deserve at fifty" (or maybe what you can afford).
In her childhood, her family alternated between India and East Africa before coming to Britain where she grew up. She has memories of Bombay and Africa but is now a NRI (Non-Resident Indian) who has raised her own sons in Wimbledon. They have a mixed heritage of Indian / Hindu and Pakistani / Moslem that could have caused problems, but doesn't "as long as you know who and who not to drink in front of."
She shares some of the banter she has with her millennial sons, who are quite happy just speaking English. They affectionately mock her while she finds herself becoming more like her own mother. "You're the one with the identity crisis mum, not us!" they tell her.
This is touching and funny with an underlying political awareness. It isn't just Asian women in the audience who will find it connecting as it explores identity, lightly touches on gender roles, generational differences and a different kind of Britishness. It even includes a practical demonstration of the yoga version of a bed of arrows. I wonder if Sudha's sons can do that.
Life Laundry gives a voice to the younger daughters of the South Asian diaspora, two generations of young women raised here. Are these feminists? The youngest are certainly fed up with deep discussions that always seen to end up talking about death or diversity—they think them depressing! These are voices that balance the first piece and, though playing script-in-hand, Shaheen Khan as the elder and Nyla Levy and Sophie Khan Levy as the youngest keep things very lively.
As so often with such very personal pieces Evening Conversations and Life Washing will ring lots of bells for all kinds of audiences. We not only learn about others but understand ourselves more.
Evening Conversations / Life Laundry will also be performed as part of the Chelsea Festival on 2 August at Chelsea Theatre.
Reviewer: Howard Loxton