Every Brilliant Thing
Duncan Macmillan
Paines Plough / Pentabus Theatre Company
Summerhall @ Roundabout
–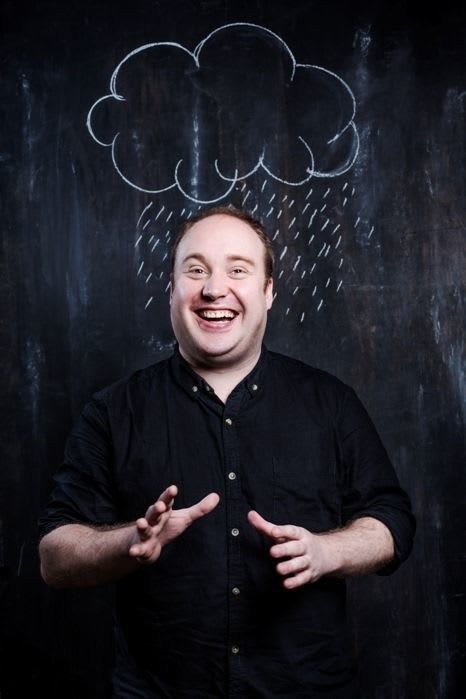 The brilliant thing about this one-man production is that I've never seen a theatre audience sobbing their hearts out while still laughing, certainly not to this extent.
Within Paines Plough's free-standing, flat-packed theatre-in-the-round—a whole theatre that runs off a 13 amp plug socket; how brilliant is that?—Jonny Donahoe hands out slips of paper to most of the audience, each containing a numbered brilliant thing, which they will be asked to read out at some point during the play. Unless they don't want to.
There is a lot of audience participation in this production, but it is never threatening or embarrassing for those involved. It makes the whole thing seem like a lovely chat with a very likeable man as he tells us his life story.
Just to relate the plot would make it sound depressing, which couldn't be more wrong. We do learn about his mother suffering from depression and attempting suicide a few times. We also hear about the beginning and failure of his relationship with Sam, whom he meets in a library. But the whole thing is hilarious while still being immensely moving.
At seven years old, our host starts a list of every brilliant thing he can think of in the world. When he gets past 300, he leaves the list on his mother's pillow to show her that there is plenty to stay alive for.
The list becomes an obsession that carries on for years—my piece of paper was numbered something over 500,000—and his life story is told through them.
Donahoe's amiable performance is so authentic that it almost feels a betrayal when you see Duncan Macmillan's name on the poster as the writer and realise it wasn't true. It's beautifully constructed with seamless integration between the scripted sections and the improvised banter with the audience.
It's the funniest play you're ever likely to see about depression, and also the most moving, even though (or perhaps because) not a tear is shed by the performer. It's another brilliant thing to add to everyone's Edinburgh Fringe list.
Reviewer: David Chadderton