Every Leaf A Hallelujah
Ben Okri, adapted by Chinonyerem Odimba
Regent's Park Open Air Theatre
–

Listing details and ticket info...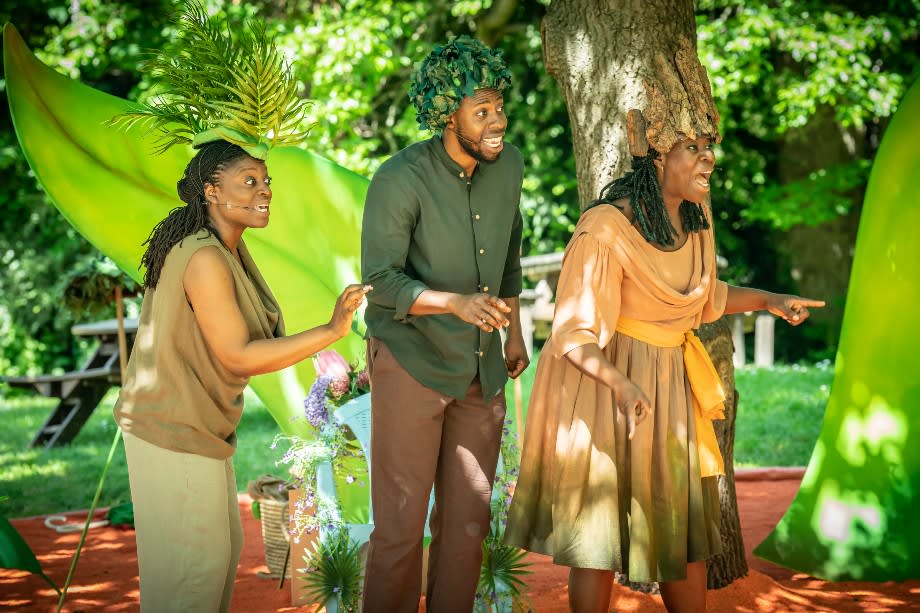 It has been estimated that over two thousand trees are cut down every minute. In the first two decades of the 21st century, over 18% of the Amazon rainforest was cleared mainly to farm cattle. Meanwhile, local authorities across England are regularly chopping down local trees.
The reason is always money, the money you can make, the money you can save. Yet this will contribute to climate change that will add to global warming, desertification and the extinction of species.
The gentle, forty-five-minute play Every Leaf A Hallelujah aimed at young children takes us to the heart of this issue and what we can do about it.
The seven-year-old Mangoshi, played by the very lively and engaging Hannah Akhalu, lives on the edge of a forest with her parents. Sent into the forest by her father (Fred Smiley) to get a flower that will help with her mother's (Rosemary Annabella Nkrumah) illness, she meets talking trees who reveal that loggers are chopping down the tree community. She is appalled.
The wise old Baobab Tree (Florence Odumosu) takes her on a journey across the world to show her how widespread the problem is. It includes the South of England where the trees have existed too close to humans. She is told, "this is a place of ghost trees where they have all been cut down."
Returning to her family, she decides to organise a protest. She says to the audience, "children of the world, are we going to let them cut down the trees?" They shout back "no" and are soon chanting, "we are friends of the trees. We will stand with them. We won't let you hurt them. They are our friends."
Placards are passed around to anyone who wants them. The chants of "save our trees" bring out a statement from the Governor who says there will be no more trees cut down, "because of all the noise and protest." The grateful trees make a point of finding the healing flower for Mangoshi's mother.
Children clearly warmed to this uplifting show performed under the magnificent oak tree on the lawn beside the theatre. They were left with the message that "some people care more about money than nature… (but) if you look after trees, they will look after us."
Reviewer: Keith Mckenna