Every Word Was Once an Animal
Alexander Devriendt, Angelo Tijssens, Charles Purcell
Ontroerend Goed
ZOO Southside
–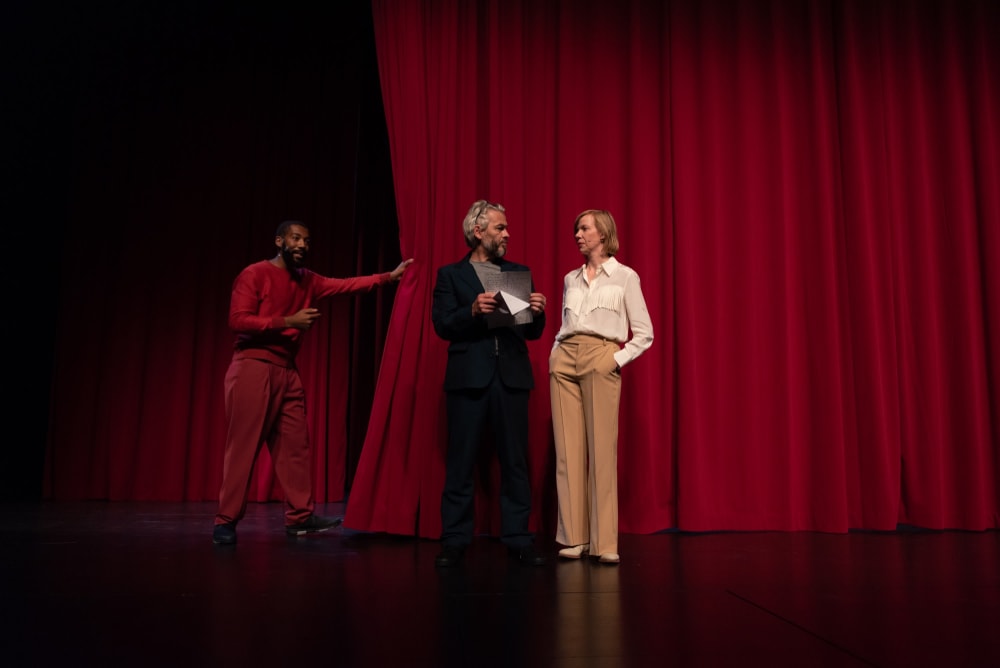 Ghent-based Ontroerend Goed has been challenging Fringe audiences' perceptions of what is theatre for years. Its latest production Every Word Was Once An Animal is an inventive metatheatrical dram that focusses on the workings of the play itself.
It starts, or rather doesn't start, on 5 April 2020 as COVID stopped the opening performance taking place. So, the company has decided to describe what should have happened in tremendous detail.
We are reminded of the traditional start of a performance, with the house lights going down, the curtain opening and the stage lights coming on—but that didn't happen.
In fact, all the normal theatrical conventions are turned on their heads. We are told to watch out for the curtain scene as a model stage is brought onto stage but then we're told, "that's not the curtain scene." When it eventually comes, it's absolutely hilarious as if the curtains have come to life. Yet again we're told, "that's not the curtain scene."
So, what are we to believe? One of the actors, Bas, tells us to trust him as he promises to remove a microphone from the stage but he doesn't. He tries to make things clearer but it's all becoming more bizarre.
You begin to question if anything they do or say is real, or is it all an enormous con trick, or simply lies?
It's certainly entertaining and thought-provoking but leaves you confused and bewildered.
Ontroerend Goed at its outlandish, comic best.
Reviewer: Robin Strapp