Every Coin
Carlon Campbell Robinson
Part of the Convictions festival
Synergy Theatre Project Soho Theatre
(2011)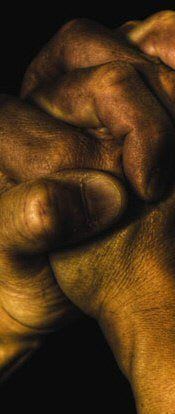 Society has a soft spot for the underdog, especially ones trying to make a better life for themselves, though in the case of Every Coin it would probably be the underdawg. As part of Synergy Theatre Project's Convictions, Every Coin is by Carlon Campbell Robinson, a man that the programme tells us is serving a life sentence and 'is dedicated to turning his life around'. Set in a prison, Robinson's play tries to show us the different sides of the coin.
Mark has just been moved from Belmarsh and finds that his new location has both old friends and enemies, and both are part of the new gang that has nothing to do with postcodes - Islam. Under inmate Ikrimah, the newly faithful form a gang more dangerous than what Mark has encountered on the streets. It soon becomes clear that converting is the only way to be safe. Meanwhile, his prison officer, Officer Cole, has a deep rooted hatred of terrorists and is looking for ways to bring Ikrimah down.
The play is well acted all round. Clifford Samuel fantastically heads the cast as Mark; he plays the role with passion and conviction without ever being over the top, and the street language rolls of his tongue naturally without feeling forced. Terence Maynard also gives a sterling performance as Ikrimah, the forceful leader of the Muslim gang. His voice is powerful and his presence is imposing; it's entirely believable that he is a man that people follow.
The script is often funny and sometimes touching, but Robinson sometimes credits his characters with a little too much thought and expression. Every man seems to have an opinion of Nick Clegg and the current government - whilst this is believable in some, it grates that every character takes such an interest in politics. In addition, for the sake of the audience Mark pours his heart out in a letter to his girlfriend, making him vulnerable in way that doesn't seem realistic in a convicted criminal, let alone a man.
Similarly, the relationship between Mark and Officer Cole (Christopher Middleton) is built up too quickly; from not trusting his prison officer, Mark suddenly pours out details of his life after just a few minutes of bonding and sharing from Cole. The scenes between the two of them don't quite ring true.
However, the scenes between inmates are much more believable. Esther Baker's direction has them up in each others' faces and verbally sparring so that the tension crackles. Each scene feels like it's ready to explode.
The problem is that there is too much going on - it's almost two plays shoved into one. Robinson doesn't just try to show both sides of the coin, he tries to show many coins from both sides, and probably their edges too. As a result, the play has some good individual scenes, but together they're a little disjointed. Some of the messages in the script are drowned in others. Although Mark ends with the thought that the way children learn to treat others is through how their parents treated them, the punch of his speech is lost in the midst of the things that happened beforehand. In the end, Every Coin suffers from too many convictions.
Reviewer: Emma Berge