Everything Has Changed
Julian Spooner
Rhum and Clay and New Diorama
Pleasance Courtyard
–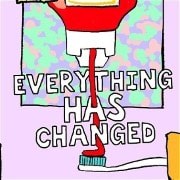 Rhum and Clay's Everything Has Changed is a child-friendly show that tackles the issues of climate change and the balance of the world's environmental circumstances in a fun, inventive way.
Years in the past, the world was in balance with nature with the rhythm factory at the centre of the earth controlling all the sounds of the city, the countryside and the seasons, and this plan ran perfectly for generations.
But this equilibrium is about to change forever when 10-year-old Matt (Matt Wells) and 9½-year-old Lakeisha (Lakeisha Lynch-Stevens) wake up one day to rumblings in the earth. Their normal daily routine is thrown into turmoil with snow, wind and rain all happening in one day. Time is out of kilter and there is even an actual zebra on the zebra crossing.
Even the adults are concerned, glued to the weather reports on the news broadcasts, and the children are becoming afraid of what may happen next and have to sleep with the light on.
There is much audience interaction in this sensitive production and recommendations from the youngsters are then included in the story.
In a final catastrophic explosion, our two heroes fall to the centre of the earth and are determined to fix the rhythm factory. With help from the audience in restarting the flow, everything eventually returns to normal, but better.
This is a delightful production that delivers an important message about our planet told by two skilled performers and is highly recommended.
Reviewer: Robin Strapp