Everything I Own
Daniel Ward
Hull Truck Theatre Company
Hull Truck Theatre
–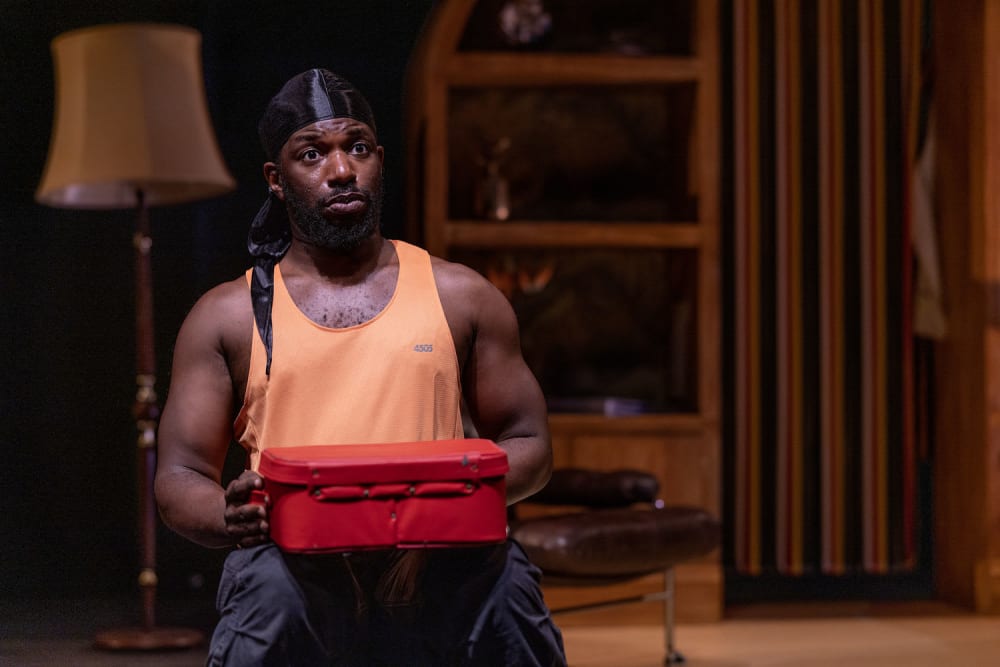 Continuing the Hull Truck "Homecoming Season", Daniel Ward's newly penned monologue, Everything I Own, features Gabriel Paul as middle-aged Errol coming to terms with both the death of his father and his son's disappointment at his apparent indifference to the Black Lives Matter movement. It also charts his personal journey from childhood as an émigré from Jamaica settling in Hull, learning to tolerate the 'banter' of Jim Davidson-inspired racism and confront its more violent manifestation in adulthood.
Daniel Ward is no stranger to audiences in Hull. His 2019 play, The Canary and The Crow, produced by Middle Child Theatre Company, won the Writers' Guild Award for Best New Play for Young Audiences as well as a string of other similarly prestigious awards. It transferred to London's Arcola Theatre with huge success.
With restrictions still in place, Everything I Own seems slightly swamped in the main house at Hull Truck. Amanda Huxtable's production identifies a relatively small area of the stage as Errol's late father's house where he has come to sort through his belongings. As one of many siblings, Errol has agreed to put a Post-it on any item he wants to keep, greeting with dismay the sight of the bottle of vintage rum with many Post-its pasted on it!
Although this feels like a chamber piece more suited to a studio, Gabriel Paul's presence overcomes this with a performance that is gently understated, warm, emotionally rooted and completely engaging. The amiable charmer who greets us in the opening moments evolves into the grieving son reminiscing over his father's music collection and eventually the angry and disillusioned victim of racism, tired of the fight.
Everything I Own is undoubtedly at its strongest during the more personal elements of reflection, such as when Errol tells the story of the terrifying attack on him and his wife or the account of his father's heartbreak after his mother's death, resulting in his inability to sleep in the marital bed. These moments feel organic, emotionally raw and have a visceral quality to them. But there are times when the script drifts into too much exposition, when the writer's voice drowns out Errol's and it feels too much like a lecture. At such moment, the play loses its authenticity.
Everything I Own feels like a play in development so I, for one, feel that the creative team should continue to work on it in order that the play's indisputably powerful message emerges in a much harder-hitting draft than is currently the case. Daniel Ward is an important young writer with a lot to say and as an old white man I need to listen. My since hope is that Hull Truck considers sticking with him, so as to nurture what is potentially a great talent.
Reviewer: Richard Vergette