Evita
Lyrics by Tim Rice, music by Andrew Lloyd Webber
The Lowry, Salford, and touring
(2010)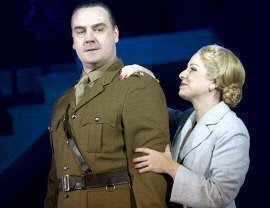 Bill Kenwright has revived the last of the Tim Rice and Andrew Lloyd Webber collaborations from three and a half decades ago, Evita, based on the wife of the Argentinian President just after the Second World War, Juan Perón.
After a prologue at her funeral, the sung-through musical traces the life of ambitious young actress Maria Eva Duarte (according to Mary Main's disputed biography on which the show was based) from her affair with a singer, Agustin Magaldi, in the small town of Junin that gets her to Buenos Aires through a series of other affairs, each of which gets her more power, influence and money. She becomes a radio star with her own series on Radio Belgrano which brings her into contact with Colonel Juan Perón, one of the most powerful men in the country. When he is arrested she campaigns for his release, after which they marry and Perón is elected president.
Eva becomes Perón's PR expert, winning the hearts of the people of Argentina and even touring abroad alone to drum up support for the regime. However she falls ill with cancer and dies at the age of just 33 years.
Like the other Rice-Lloyd Webber collaborations, Evita is built up from a series of loosely-connected set pieces rather than a strong, continuous narrative. However where the staged rock concept album or school concert approach works fine for the simple and familiar stories of Jesus Christ Superstar and Joseph and the Amazing Technicolor Dreamcoat, Evita tries to reconstruct the life of this iconic figure over more than a decade and a half of complex political events, and so ends up as a sequence of short snatches of story that are rushed through as we are hurried on to the next bit. It therefore all comes across as very superficial, a little confusing and emotionally very unengaging.
As always, Lloyd Webber constructs some catchy pop songs, most of which are pretty well known, mixed with classically-influenced pieces, but some of the less well-known songs are a little dull. As it is the sung-through, the songs are connected by sung dialogue, which often sounds contrived and could be better done in real dialogue. Rice's lyrics are pretty workmanlike with occasional flashes of wit but are rarely clever or insightful. In fact, for a story about a woman that sleeps her way into the role of first lady, becomes an icon in her own country and abroad and dies young against a backdrop of a fierce political struggle, it's amazing just how uninteresting, unengaging and unemotional this show is. You can get much closer to the character and events from the simple two-page chronology of events in the programme than from the two hours plus of the show.
The production has some decent performances but feels rather weary. Abigail Jaye is strong as Eva and Mark Heenehan is excellent as Perón. Mark Powell also does a decent job with the narrator character Che, but this is a character that is good in theory—a narrator that can get inside the story, interact in song with the characters and then just step out, like the Balladeer in Assassins—but is poorly utilised to become a clumsy device for filling in the story and provoking Eva into soliloquising.
Lloyd Webber has, for many years, been very good at getting good directors to mount big, spectacular productions that to some extent paper over some of the weaknesses in the material. On a smaller scale, these weaknesses are much more evident, and in a slow, unimaginative production such as this one, the evening does rather seem to drag.
Playing to 18 September
Reviewer: David Chadderton