Evita
Tim Rice and Andrew Lloyd Webber
Lyceum Theatre, Sheffield, and touring
(2008)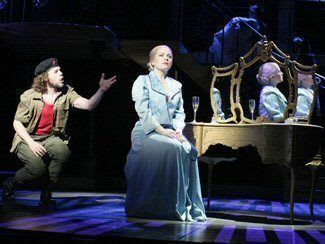 This opera, for opera it is, with words to music, a few arias, some recitative and virtually no conversation, turned out to be an unsatisfying production by Bill Kenwright, yet it is difficult to undertand why this was so.
The continuity was provided by the well-tuned voice of Seamus Cullen, as Che, setting the scenes and commenting on the action as well as the historical background. Indeed, without his contribution, knowing nothing of the history of Argentina from 1920 to 1950, it would have been impossible to appreciate some of the points being made. He could hold his own against the orchestra but this was not true of all the singers, even, at times, Evita sung by Louise Dearman. Once she settled into her role, she demonstrated some of the force of the original Eva Peron. Her husband Peron (Mark Heenehan) had a dominant singing voice, and acted the role to go with it. A sweet/sad solo by the ejected girl firend of Peron, played by Nikki Mae, gave a brief warmth as she disappeared from the action.
The majority of the activity was rigidly militaristic with storm troopers and soldiers marching hither and yon, interspersed with vigorous dance from troops of lady friends and peasants.
It was the staging, designed by Matthew Wright, with lighting by Mark Howett which produced an atmosphere of disorganisation, change, discomfort and abandon, including a section from Casualty, or Holby City, with doctors and nurses rushing in to provide cardiac resuscitation behind screens, all to no avail. Undoubtedly this patterned the life in Argentina during the stormy reign of the Perons.
We finished as we started, with an honour guard standing over the resplendent coffin not, one understands, the true fate of Eva Peron.
Peter Lathan reviewed this production, with a slightly different cast, in Newcastle
Reviewer: Philip Seager