Evolve
Debbie Bandara
Forest Tribe Theatre
(2021)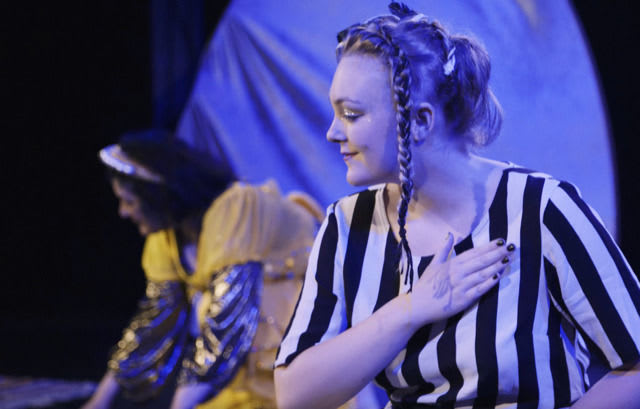 Forest Tribe Theatre looks set to enhance its growing reputation for producing outstanding child-centred performance work with a new piece aimed at children with autism and complex learning needs.
Created by artistic director Debbie Bandara and her team and drawing on special educational consultants, Evolve is a 40-minute, multi-sensory piece inviting audiences to look, listen, touch, smell and even taste (drinking tea).
The children are guided by two characters, Spin (Jasmine Ward) and Twirl (Sheena Mukerjee). Ward has a wealth of experience working SEND children, while sitarist Mukerjee not only composed the music but lent her knowledge of natural perfumery to the development of the sensory environment in Evolve.
Pictorial 'social stories', put together by Bandara, prepare the children for what is to come—the stories emphasise that the children are 'invited' to participate (touch, smell, drink, dance etc.), but that the choice is their own.
Spin and Twirl are on a quest, searching the cosmos for 'something rather special'.
Rather than employing a conventional linear narrative, Evolve alights on matters that might concern neuro-diverse children:
"Things keep changing, don't they?" laments Spin, "It makes it hard to find what I'm looking for—and I'm not even sure what I'm looking for."
Spin and Twirl try to "push through the fog" and, at one point, they fear they have lost each other, but we can see they are never far away from being reunited. We are not alone, though we may sometimes feel that way.
The slow, rhythmic, controlled movement of the performance combines with the reassuring drone of the sitar to make this an engaging but supportive show. Conscious, choreographed deep breathing is a calming motif. A drumbeat becomes the beating of our hearts.
"Where are we?" asks Spin. As she rotates the sun and moon in her dance, Twirl brings in our home, the Earth: "The most important jewel you'll ever know."
Feedback from an initial tour in July 2021, ranging from Peckham to Manchester, has been universally positive.
Evolve is offered in two versions to comply with social distancing and COVID guidelines. The piece is available for bookings in theatres, libraries, and special schools.
For further details or to arrange a booking, contact Forest Tribe Theatre: [email protected]
(This was reviewed via a private online viewing as COVID isolation and scheduling changes prevented us from attending a performance in person.)
Reviewer: Martin Thomasson