Exam
Based on the screenplay by Stuart Hazeldine
Three Minute Theatre, Manchester
–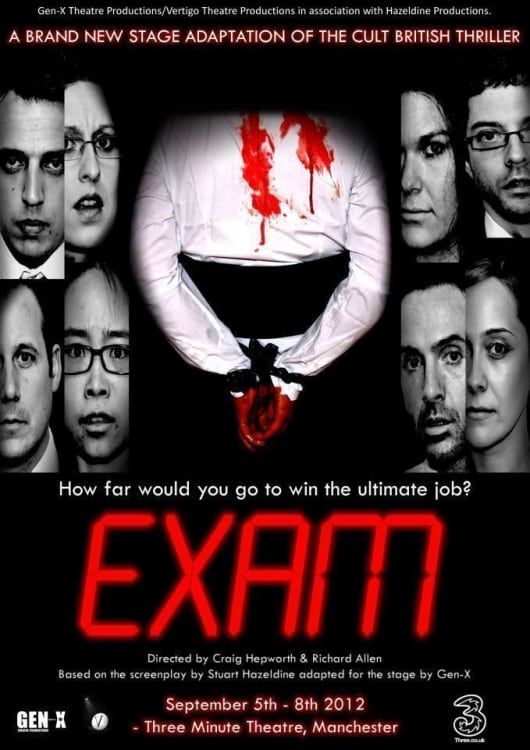 Vertigo Productions' latest show is a taut stage version of Stuart Hazeldine's cult thriller Exam from 2009. This clever adaptation by Craig Hepworth, Richard Allen and Stuart Reeve saw eight unnamed candidates arrive in an eerily white room for the job interview from hell. If you thought TV's The Apprentice was tough, well this knocks spots off it.
There can only be one successful candidate for the one job. The first problem the four men and women faced is that they have not been told what the question is that they have to confront, which makes it almost impossible to fathom the answer. What unfolds in this intriguing and entirely diverting 75-minute drama is an essay in how far people will go to get what they want.
At first there is some modicum of decorum as the candidates attempt to work together to understand the nature of the problem they have been set. Gradually this breaks down and their differing personalities emerg and come into conflict as all vie for supremacy.
Before very long, three have been dispensed with and removed by the guard for breaking the rules in some way. Then the very different personalities and approaches really come to the fore.
Number 2 is a swaggering, sexist bully who finally cracks. He is brilliantly realised by David Degiorgio with just the right amount of vigorous menace. He goads the timid Number 3, who appears to be a consensus builder until pushed too far. Ben Rigby shows us this worm turning very effectively.
Number 7 tries a more cerebral approach but is also not averse to violence when it suits him. Haydn Holden has an engaging stage presence which makes his violent and sexually aggressive interrogation of Adele Stanhope as Number 5 all the more difficult to witness. The use of fake blood here and throughout the piece is particularly skilled.
Emma Wilkinson and Natalie Perry as respectively Numbers 4 and 6 offer feisty women and both had fine moments in the limelight. The male characters are, however, the main protagonists. The supporting roles are also well played.
The claustrophobic set with its basic desks and unsettling lighting add to the tension with convincing employment of blue neon and infra red effects. This is the best use of the intimate Three Minute Theatre space this reviewer has yet seen.
The backstory of pandemic and cure feels really only what Alfred Hitchcock used to call a McGuffin or, in other words, the catalyst to set the characters against each other. Its resolution, while of interest, is less convincing than the literal and figurative fighting which precedes it.
All is not as it had appeared to be. Perhaps the best lesson to be learned from this battle of wills is to pay very close attention to the actual instructions given to you in your next group job interview.
Reviewer: Andrew Edwards