Executed for Sodomy: the Life Story of Caterina Linck
Danny West and Ben Fensome
Shift Productions
C nova
–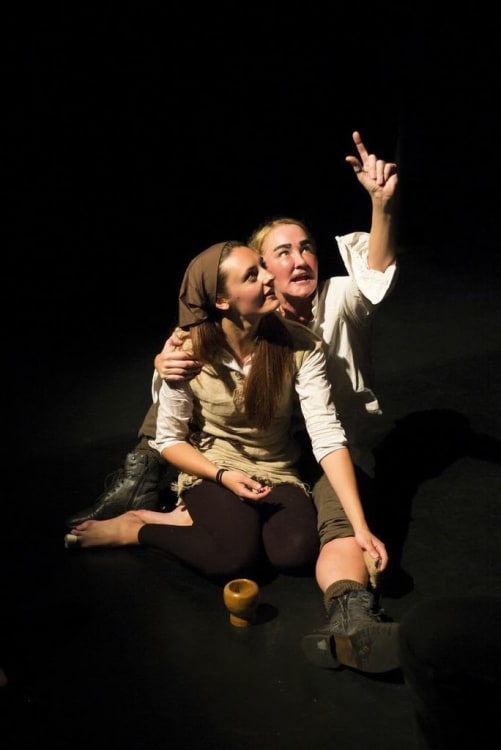 With the debate over the legalisation of gay marriage currently sweeping the globe, it's both topical and timely that Shift Productions has chosen to bring the tragic story of Caterina Linck to the stage for this year's Fringe.
Born in 17th century Prussia, Linck began to dress and act as a man from a young age, fighting as a soldier in several armies, and eventually taking a young wife, who was oblivious to his birth sex. Executed for Sodomy tells a condensed version of her life up to this point, and the trial and sentencing which followed the discovery of her subterfuge.
It's a sweet and thoughtful play, which plays upon the themes of love, loyalty and self identity. Fanni Compton does her utmost as Linck, keeping the mannishness of her actions and speech realistic but without ever leaning towards pantomimish parody. Her interplay with Cathy, her young wife as played by Victoria Jones, is pleasantly realistic. The third of the players, Alice Bell, is equally captivating in a variety of roles, including Cathy's mother.
The only issue with the play is the sheer volume of time covered in such a short play. The story is also told with very broad strokes. While this is possibly a result of the dearth of extant information beyond the trial transcripts, it has the effect of feeling rushed.
The other issue is that we never really understand Linck, as the play, much like her trial, seems far more concerned with what she was rather than who she was. It's still a powerful piece of theatre, with good turns from all the cast and well worth reminding ourselves that although there are still a ways to go, social acceptance has come a long way.
Reviewer: Graeme Strachan