Extraordinary
Devised by Tiago Gambogi & Margaret Swallow
f.a.b. - the Detonators
Ustinov Studio, Theatre Royal, Bath, and touring
(2008)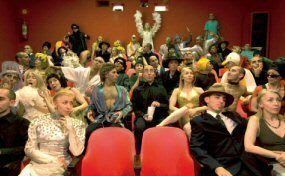 The problem with physical theatre which uses "fiercely experimental contemporary dance" as a key medium for its story telling is that all too easily a great story is sacrificed, swamped by a mess of interminable interpretative scenes and unfocussed striking poses. That's very much the difficulty with Extraordinary, the latest from physical theatre company f.a.b - The Detonators.
This pieces claims to be a narrative: physical theatre with a story to tell. Ostensibly, we follow a young extra as she stumbles through life and love. Only the programme notes give any real sense that this is, in fact, what is going on. In practice, this is a cluttered piece in which the audience must work hard to glean any sense of plot.
Pace is problematic too: treating the audience to an extended scene in which an actor leisurely collects up the debris on stage, piece by piece, isn't great theatre. Similarly, several interpretative sequences are visually interesting, but prolonged repetition undermines their appeal. And resorting to listing and miming the items of set you wish an audience to imagine on stage soon grows tiresome.
The net result is that the production has the feel of a work in progress: it needs greater clarity of thought, a tighter pace, and more focused character development.
On the plus side, this is a colourful production, designed with broad brush strokes by Jan Benes-McGradie (Lighting & Artistic Advisor) and Carl Davies (Costume) with a great sound track (Joe Cavanagh) and some moments of appealing contemporary dance. The performers/directors/producers of the show are company founders, Tiago Gamboni and Margaret Swallow, and as dancers they possess both skill and stamina with some inventive choreography.
As actor-directors, however, Gambogi and Swallow lack the proficiency needed to sustain this as a piece of physical theatre. Everything about the marketing promised an evening of verve, energy and life. Sadly Extraordinary simply does not live up to its own hype.
Reviewer: Allison Vale