The Extraordinary Cabaret of Dorian Gray
Adapted by Linnie Reedman from Oscar Wilde's Picture of Dorian Gray
Ruby in the Dust Theatre
Leicester Square Theatre (Basement)
(2010)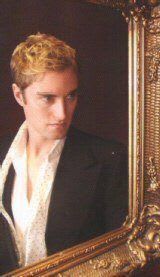 This version of Wilde's story of a young man who keeps his youthful looks unmarked by life while the effects of his sins and debaucheries change the portrait he keeps hidden was first seen as a site-specific show in the Café Royale under the title The Temple of Dorian in 2008. It had two runs last year at the present venue, though with a different cast, as Dorian Gray. Reviewing one of them for BTG, Matt Boothmann called it 'interminably long.' It seems now to have been considerably pruned for it comes down in well under two hours including interval.
Reedman has dropped some of Wilde's characters but included all the essential episodes of the plot, lifting most of its dialogue from the book though giving it to different characters. She has added a couple of moments - Gray kissing painter Basil Hallward (James French) shortly before killing him and an offer of fellation by Dorian's housekeeper's little boy (an invented character) to make explicit the homosexual as well as heterosexual excesses that the novel avoids explicitly spelling out.
With the audience seated at café tables in a room that is draped in red velvet with sparkling chandeliers and hanging greenery the presentation is indeed a sort of cabaret with Gray playing the piano and the use of songs to move on the action as well as snatches of performance by the actress Sybil Vane (Kate Colebrook), whom the young Gray falls in love with, and her fellow entertainers who sometimes get very intimate with the audience. The performance is opened and linked by Will Barrett's MC whose sinister, scowling, rubber-lipped, distorted face begins the play as the awful image of the portrait that is Gray's damned soul.
On a couple of occasions there is a deliberate crescendo of overlapping voices but there are also times when more lightweight voices risk being drowned out by the music, especially for those closest to the instrumentalists. Henry Maynard's Lord Henry Wooton, Dorian's corrupter, has no such problem and his performance is relaxed and clearly spoken with a consciously beguiling charm that is lacking in Nathan Lubbock-Smith's rather petulant Dorian Gray.
However, this may be exactly what would have attracted Wilde. Photographs of Lord Alfred Douglas always make me wonder what he found so attractive about him and, a supercilious looking photograph of John Gray (sometimes suggested as Wilde's model for Dorian) looks similarly charmless. Clearly tastes differ and ideas of desirability change - but then, who I am I judge? I wouldn't have fancied Oscar!
This Dorian has an aristocratic nose and perfect-looking skin and suggests a nervously flustered insecurity which stays even as he indulges himself in pleasure. Emotion is expressed through hands continually shaking. There is an insecurity that makes him easily moulded by Lord Henry but he neither arouses sympathy or horror.
Wisely the production never shows us the actual painting; we always have to imagine it. Some carnival commedia masks are used to little purpose, other than to disguise the actors who still wear other characters' clothes but there are some effectively surreal moments when Dorian is caught between phantom figures holding his painting and a mirror. Joe Evan's music and Belle Mundi's colourful costumes suggest a richness and theatricality not yet matched by all the performances. There is nothing to warrant the MC's threats that we are going to witness something terrible. Indeed, the conscious presentation of these scenes as a performance may be partly responsible for their failure to have much impact. Unless delivered as a piece of grand guignol this is a tale that needs to find more conflict in Dorian himself to make it gripping - and I am not sure that Wilde's book really does that.
At Leicester Square Theatre until 18th April 2010
Reviewer: Howard Loxton