Eyes Down, Pens Ready
Anna Jefferson
Broken Leg Theatre
Hackney Empire Studio
(2009)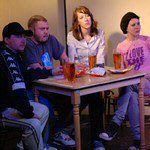 To me this title suggested Bingo but forget that image of me with blue rinse and floral dress - though between jobs I did once interview to work as a caller! This show is set in a Lincolnshire hostelry where a pub quiz is in progress. The only one I ever went to was run like University Challenge or the annual National Theatre/RSC contest but here there are multiple teams and they write their answers on a quiz sheet.
The team we meet call themselves 'My job's in telesales.' and are made up of Shannon, an accountant who has her own house and aspirations, her brother Dean, small-time drug dealer whose done time for something to with the credit cards and who is going nowhere, Shannon's best friend Janey and Dean's mate Jude. Now mid-twenties, they've known each other since schooldays and we discover quite a lot about them, largely through individual monologues when the lights go down and the rest of the action freezes. Shannon (Jade Weighell) may be doing all right but she has never got over a schoolgirl crush, though she now thinks she's found a boy friend on the internet. Janey (Alice Trueman) likes life as it is, why do you have to be ambitious? but is fed up with being bossed by Shannon. Jude (Scott Roberts) goes off to secret raves and thinks of himself as part of 'a new age beat generation;' he wants to escape to exotic places - and is definitely going back to Benidorm, while Dean (Ben Pritchard) can't imagine life without Jude and wonders could he be gay.
The quiz, with Dave (George Williams), best known for his karaoke, standing in for the usual quiz-master, is there as a framework for the show. If playwright Anna Jefferson is using the quiz format or the choice of questions to convey some other message I missed it and, except for a tiny smidgen of plot, there is little attempt to present ideas in dramatic form. However her writing shows she has a keen ear for vernacular speech and her characters are entirely convincing, especially when played with the vigour and feeling of this well-matched cast.
Directing her own script, Jefferson has devised ways to add physicality to a piece that relies largely on individual monologues but I found it difficult to believe that contestants would be allowed to leave the room as they sometimes do in the real time of the contest. She is very good at suggesting the small-town atmosphere where everyone knows each other's business -like the poor guy who was shagging in the store room when some stock fell off the shelf and broke his leg - and keeps her audience laughing through this play's 80 minutes but, like these people's lives, there is no feeling that this play is taking us any further or giving us much to think about. I'd like to see her and this company be more ambitious.
Ended 14th February 2009
Reviewer: Howard Loxton