F**king Men
Joe DiPietro
Adam Roebuck
Waterloo East Theatre
–

Listing details and ticket info...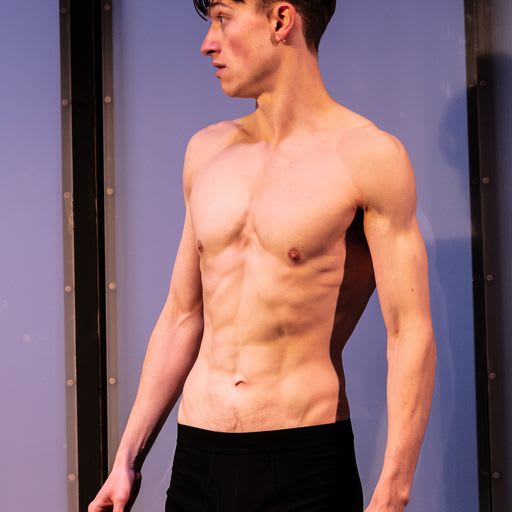 It's perhaps not surprising Joe DiPietro's provocatively named F**king Men is primarily about sex.
It returns to the intimate Waterloo East Theatre with a bang up-to-date production, thanks to the influence of Steven Kunis as director. All the grit and testosterone of the original production, which debuted in London 15 years ago, is still there, but now there's subtle references to PreP, Onlyfans and a different narrative around HIV. All of this makes it feel super-fresh and relevant for both a new and returning audience. The use of vapes constantly pumping out fruity smoke towards the audience is yet another tiny touch that helps bring this tale up to date.
There's no over-arching story in F**king Men, but instead 10 scenes, involving 10 characters—all interconnected through various sexual encounters. Some of these are lustful, raunchy moments of pure hedonism, whilst others are more passionate. Together, they explore a range of themes including love, loss and the nuances around what makes a valid and legitimate 'relationship' in 2023.
Gay relationships can often be portrayed as shameful and sordid, so what a joy to sit through 90 minutes of positively, laughter, sadness and a celebration of the range of connections available today. The combination of intense sexual moments and other deeper connections is both absolutely gripping and makes for some super ups and downs.
Thankfully, the ensemble cast of Alex Britt, Charlie Condou, Derek Mitchell and Stanton Plummer-Cambridge are all well equipped to handle things. Charlie Condou and Alex Britt nail one spine-tingling, heart-breaking scene between a rich older man and the hired hooker to perfection. Both are there out of necessity, neither is looking for anything other than a superficial encounter—and yet what develops is something much more intense which left me both holding back tears and holding my breath in anticipation.
And then there's the laughs. Much of the humour and 'laugh out loud' moments are gifted to Derek Mitchell who deserves a special mention for his hilarious performance, flair and comedy timing. His scene as a starstruck playwright alongside Stanton Plummer-Cambridge is side-splittingly funny and left me giggling to myself all the way home.
F**king Men is stuffed with stereotypes. We all know someone like the cocky little jock, full of energy and a sex drive to match, or the eccentric, theatre-loving thespian who's there for the 'drama'! Perhaps you are that couple embracing life in an 'open' relationship or the bloke with a double life? None of that's a problem, nor is it a criticism—stereotypes exists because people like these characters exist. The skill is not to turn them into caricatures or cast judgment, and for that reason I applaud their presence and praise each and every scene in this play. Seeing your friends, acquaintances or perhaps yourself brought to life only helps draw you towards their passion, problems and pain. Remarkably, there's also a real depth to each as DiPietro goes beyond the thin veneer that only the outside world normally sees.
This production is just the latest of F**King Men, which has been remastered many times before. It's by far one of the best and, despite it no longer pushing boundaries, it does still have the capacity to push you to ask what sort of guy am I—or perhaps what sort of person you ought to be. And for that, job done.
Reviewer: Thomas Magill