Fabric
Abi Zakarian
Damsel Productions
Soho Theatre
–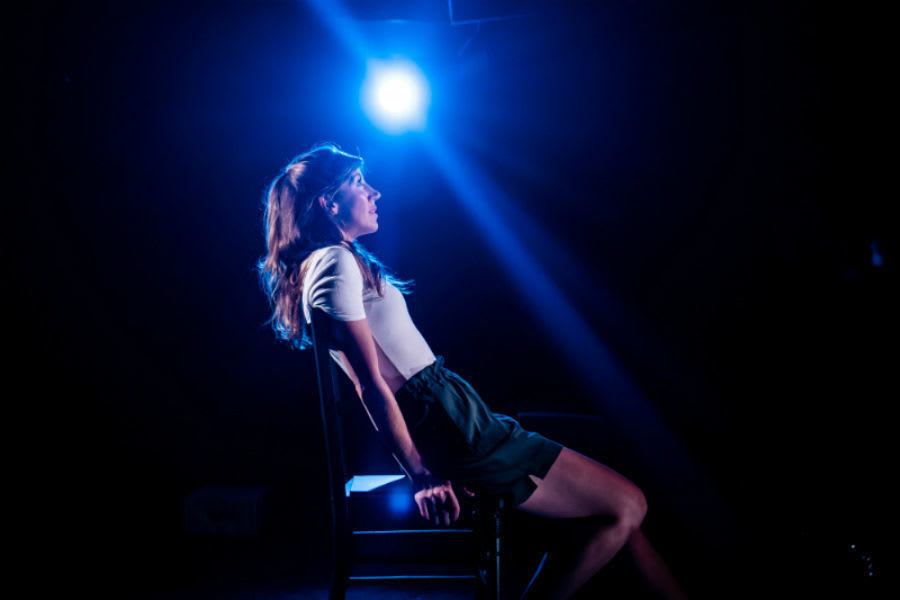 Leah (Nancy Sullivan) knows good fabric—she works in a high-end clothes shop. That's where she meets the charming Ben Cavendish. Many dates later, they are married.
In a lively, chatty monologue, she tells us about the excitement of their growing relationship, of Ben telling her she is good wife material, their meeting with family and the wonderful honeymoon in the Maldives.
Nancy Sullivan gives a fine performance as Leah warmly recalling good times with Ben, for the most part keeping the manner and content of what she says light and ordinary, often getting the audience to laugh at her observations and memories.
But something isn't quite right in Leah's life. We guess that from the occasional voicemail message of vague concern from a family member, from a solicitor and from her employer.
And there are the references to the damaging stains on the fabric of clothes such as the spillage on her red dress and something someone wiped on her wedding dress.
There are also the moments in their relationship that had niggled, including Ben's interest in Fifty Shades of Grey-style pornography. And there was that "stab of pain" on her wedding night when she had reluctantly allowed him to do "something I mistake for love."
What changes things is a night out with the girls when she gets incredibly drunk and in that vulnerable state is pushed into a disabled toilet by a friend of Ben's who sexually assaults her.
Fabric can feel a slow, early mundane build to Leah's upsetting account of trauma and then be perhaps too brief and schematic about the consequences.
But it does show us the many ways others have helped make abuse possible. Sexual assaults aren't the isolated acts of monsters but the product of cultural attitudes to gender woven into the fabric of society. Stopping them means changing the society.
Reviewer: Keith Mckenna