Fabrication (Affabulazione)
Pier Paulo Pasolini, in a new version by Jamie McKendrick
The Print Room
(2010)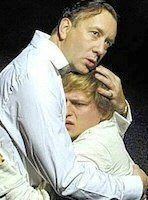 Though celebrated for his films, Pasolini's poetry and plays are little known in Britain. Lucy Bailey has apparently waited twenty years since she first discovered this play for the opportunity to present it, which she now does as the first production at the new studio theatre, converted from a former warehouse, that she has opened with joint artistic director Anda Winters..
Has it been worth the wait? Written in 1977 Fabrication is a difficult but compelling work and Bailey gives it a first-rate production. It presents us with a father-son relationship but this is no easily interpreted Oedipal situation: the son is not in competition for his mother, indeed this is not about the son. It can't be called Laial either (if there is such a thing) although it is all about the father who is haunted by a dream he can never completely remember on waking, a dream that still haunts him twenty years later, long after it has destroyed his life. It makes him physically and mentally ill; it drives him to seek help in religion.
This is nothing so simple as a reworking of an ancient myth, though Pasolini is very aware of classical precedents. He starts the play with the voice of Sophocles who later reappears to converse with the protagonist. The father, a successful and philanthropic Milan industrialist, is challenged by the son's independence. He wants him to take his advice, follow in his footsteps, and be another him. The boy is blonde, unlike his parents, so he questions his paternity. An older generation always feels threatened by a younger one replacing it even though wanting children to follow in their footsteps, but that's not the problem. The father becomes obsessed with his son's sexual activity. He plots an opportunity to demonstrate his own sexual prowess; .he becomes fascinated by his son's cock.
This is not Pasolini exploring a homosexual theme as you might think; the father is so challenged that he believes his son's burgeoning virility is making him impotent. There is a truthfulness about the irrationality of his fears and frustrations that parallels one's lack of comprehension. They lead to madness and what he calls regicide - why I haven't yet decided)
Much of the play consists of long interior monologues from the father which Jasper Britton handles beautifully, delivering the verse without making it seem artificial. The ghost of Sophocles speaks of the 'double glory' of the word in theatre, but Britton doesn't overdo it. When he takes his clothes off, this production does not actually have him remove them and his playing has the same balance between naturalism and theatrical signage.
The production is staged in the round but the intimacy with the audience is interrupted by a barrier. Mike Britton's set surrounds a central, black-gravelled space with a wall that limits vision both below and above. The audience are not sharers; they are made voyeurs, which gives an almost clinical emphasis on the father's paranoia, and Oliver Fenwick's complex lighting plot suggests ideas in the mind as often as people present.
Max Bennett plays the golden-haired son, passionate in his frustration with his father but still a construct of his father, part of the fabulations in his mind, and Geraldine Alexander the mother, elegantly Milanese. Martin Turner as the ghost of Sophocles rushes around the stage, diving to the ground to match the father as though another self within his brain. Letty Butler as the boy's sexy girlfriend, Enzo Squillino Jnr as a sweaty priest and Janet Fullerlove as a necromancer complete the cast
Bailey has delivered a very concentrated production. Although I suspect for most people in the audience there comes a moment when they feel 'this does go on', Fabrication pulls you back in as a piece of theatre, however baffled you may be about Pasolini's intentions.
Run ends 4th December 2010
Reviewer: Howard Loxton