Façade

University of Manchester Drama Society
theSpace on the Mile
–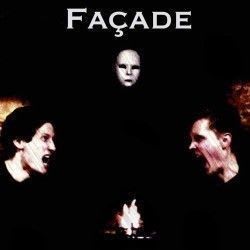 From the opening narration to the myriad short, disconnected scenes and psychological bent to the story, this mystery thriller feels like the result of one too many nights watching Christopher Nolan films.
Painting an abstracted, somewhat jumbled and unfortunately slightly incoherent tale, Façade takes the barebones of a good idea and never quite manages to fill in the gaps.
With a stage split into thirds, a central space, a video screen, and a room full of diaries and papers, the story jumps between the events, the aftermath and preludes to a tragedy. The central character, Alec, is convinced that the world isn't real, and yet his love for his girlfriend must be.
How this ties into the talking head videos and the frantic searching of his professor and girlfriend for clues in his diaries isn't clear until the finale, yet it's a conclusion that manages to be both bluntly obvious and yet baffling.
It has the definite feel of a show that was devised in reverse, beginning with the end and working backwards to construct a narrative to suit it. It doesn't help that the big reveal will be obvious to some in the audience from the first few minutes of the story, thanks to a not so subtle clue being made early on.
Aside from this, there are simply too many inconsistencies in the plot; too many questions arise but are never answered and most of these are simply about aspects of the story.
The company should at least be commended on some good acting work and on a level of imaginative staging and play crafting above the norm of many a humdrum show. However it shows that if the script isn't good enough, the play simply won't work.
Reviewer: Graeme Strachan