Faceless
Selina Fillinger
PMJ Productions in association with Park Theatre
Park Theatre
–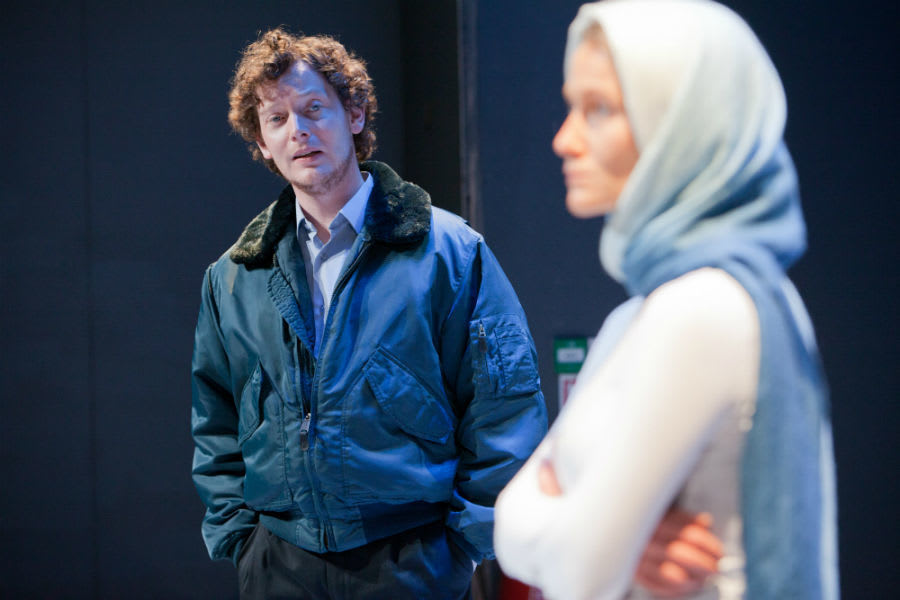 The Harvard educated character Claire Fathi (Paige Round) is just one of many low-level lawyers working for an American Prosecutor's office when she is plucked from obscurity by the politically ambitious Scott Bader (Matt Mella) to be offered the lead in the high profile prosecution of the "Muslim Barbie" Susie Glenn (Fiona Gent), a blonde-haired, white-skinned American.
Bader makes it clear that Clare gets the case because of "that thing on your head."
That "thing" being a hijab and the case requires Clare, a Muslim, to send Susie to prison for twenty years for giving support to the terrorist organisation ISIS.
Susie an eighteen-year-old, academically successful student, has spent eight months communicating by e-mail, Facebook and Twitter with the Syrian fighter Reza whom she has been caught trying to leave the country to marry. She also wears a hijab having converted to Islam on Twitter.
Both women seem isolated and vulnerable.
Clare's father was sacked from his job for being a Muslim when she was fifteen years old and, after it took him five years to get another job, worries about his daughter's refusal to hide her religious affiliation.
She also has to endure Bader, one of the most arrogant, offensive bosses you can imagine. He has the lazy gender and religious insensitivity of a powerful man certain he can brush off any criticisms of his witty banter.
But this is a play of sharp dialogue that grabs your attention with its humour and striking debates.
The acting is always engaging. Matt Mella is particularly effective as the self-important, overbearing but quick-witted Bader. Paige Round gives a strong performance as the frustrated and angry Clare.
The play's point of view and sympathies are with the women characters. Its central focus constantly pulls towards Clare wanting to stand by her religion without being embroiled in religious arguments or having herself primarily defined by her religion.
At one point, when accused of dodging her Muslim profile, she says, "when you look like I do, it is difficult to fly under the radar. When you look like I do, it is difficult to fly anywhere."
We are also given lots of reasons to help us understand, though not condone, the trajectory of Susie.
Her mother, a police officer, had recently been shot dead in the line of duty responding to a domestic. Her father Alan (Fearon McElroy) has difficulty knowing how to communicate with his daughter and, when he found her flight boarding pass, reported her to the authorities rather than speaking to her about it.
The play touches sensitively upon issues of online grooming, the stigmatisation of Muslims, and issues of faith and identity. But its brilliance is the dialogue.
The audience is left to decide Susie's guilt or innocence which they can write on feedback forms, the result of which will be reported on Twitter.
Reviewer: Keith Mckenna