Face Value
Dawn King
Stephen Joseph Theatre, Scarborough
(2007)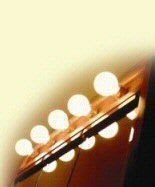 This is a nicely written two-hander, performed by Eileen Battye as the ageing actress Ophelia Henson and Philip York as Martin, her 'biggest fan'. It's a lunchtime show, lasting about 45 minutes, performed in the SJT restaurant on a tiny stage. The designer Michael Roberts has done well to suggest two different theatre dressing rooms and a room in Ophelia's home, using a railing of clothes and a few pieces of furniture and props.
The subject of how (or whether) actresses continue to be cast as they get older is a topical one, and some significant issues emerge about stereotyping, facelifts and so on. For example, Ophelia has always played the romantic lead, but she's now at the age where she's on the verge of being cast in 'granny' roles. She's also having to get used to a new, and younger, agent, who is urging her to try 'interesting' work on the theatre fringe. The reviews of her current show have not been good, and the play (about an older woman being rejected by a younger man), folds early.
Then along comes Martin, who has worshipped Ophelia from afar (well, from the stalls, that is) throughout her career. He even married his wife, who has just left him, because she reminded him of Ophelia. He has followed Ophelia's career over the years, and sent her countless greetings cards with angels on them. He has been to every performance of the current show and, when it closes early, in his disappointment he follows Ophelia home. She has accidentally left the front door open, and he walks in. The ensuing conversation forms the central section of the play - evidently Martin has idealised Ophelia, but she quickly makes it clear that she has led a racy life and does not deserve to be up on that pedestal. His illusions shattered, Martin departs, never wanting to see her again.
The play ends on an ironic upbeat - Ophelia decides to take her agent's advice and accepts a 'frumpy' role in a new fringe play. She is happy, the play is genuinely interesting and, most important of all, her career is not only continuing, it is entering a new phase.
Philip York plays a brilliant combination of low status and intensity, and Eileen Battye gives a marvellously subtle portrayal, without overdoing the staginess, of an actress playing an actress. In addition to being entertaining and amusing, Dawn King's play explores the blurring of the edges between illusion and reality, and the right to privacy for those whose work gives them a public persona.
Reviewer: Gill Stoker