Faeries
Rebecca Lenkiewicz
An ROH2 production in collaboration with Blind Summit Theatre
the egg, Bath Theatre Royal
(2008)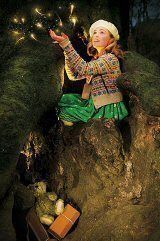 Blind Summit Theatre has already established itself as a phenomenon in puppetry, after the acclaimed Low Life last year. Here, their fabulously expressive puppets transform Lenkiewicz's delightful if formulaic fairy-tale into a breath-taking enchantment.
Director Will Tuckett seamlessly blends puppetry with dance, music and text; as he says, "It's not a play, a puppet show, or a dance show, but it's got all those things in it". Tuckett's choreography also supplies some spectacular illusions, most notably Broom's Alice in Wonderland-like tumble through the air.
The set certainly helps cast a spell over the audience. Michael Vale's atmospheric Arthur Rackham-inspired set reflects not only the playful and impish magic of the "kind of faeries that bite you on the ankle" but also the dark menace of the kind of evil faeries who would have a fairy burn to death just to see what happens.
Faeries tells the war-time story of a ten year old orphan Edie, played by adult dancer Charlotte Broom, who runs to Kensington Gardens in order to escape evacuation. As the air raid siren rips through the night air, Edie encounters the twilight world of the tiny Anak, whose damaged wings keep her feet firmly on the ground, and meets the wise and portly Drone, the delightful Gluck (Stuart Angell) and Frippery, henchmen to the menacingly evil faerie, Dolour.
This is a talented cast of actor-dancers. The intimacy of the space only adds to the magic: to be so close to the performers and to the puppets highlights the attention to detail which makes this production such a triumph.
"Faeries" runs at the egg, Bath Theatre Royal until 30th July
Reviewer: Allison Vale