Fairies and Dragons of the Desolate Plain
Tony Trigwell-Jones
Newbury Youth Theatre
Quaker Meeting House
–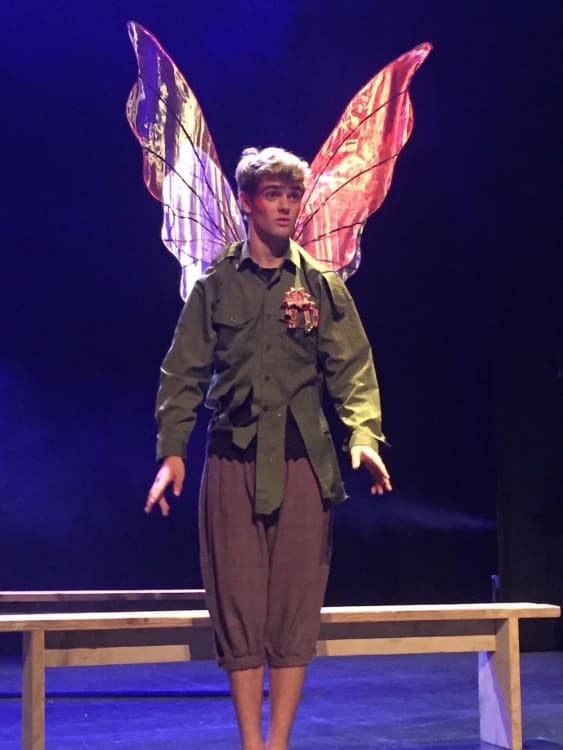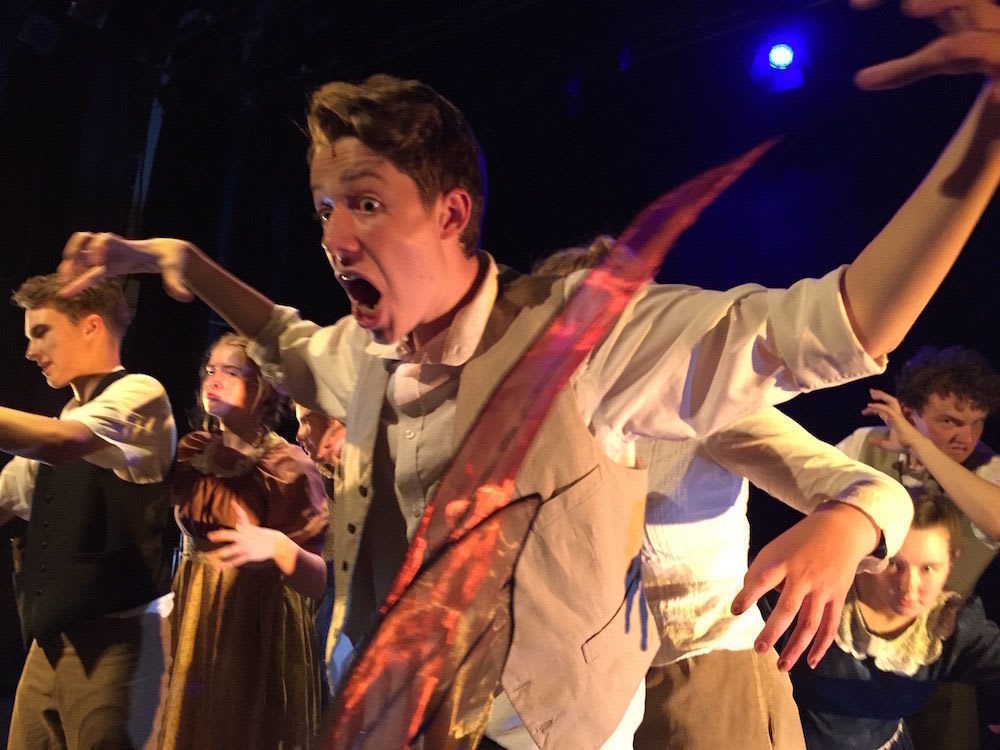 Newbury Youth Theatre has brought to the Edinburgh Festival a play about the determination of a ten-year-old girl, Mabel (Clare Woodage), to hang onto her beliefs in a world grown cynical and monstrous with war.
The play Fairies and Dragons of the Desolate Plain begins three years into the First World War. Mabel and her sister Anna (Niamh Jones) are waiting for a train that will take them to London for an appointment with the Royal Society. They intend to speak about the existence of fairies and to stop the war.
Members of the Ealing Youth Choir are also waiting at the station and soon hear Mabel talking about her beliefs. In response to some of them mocking her, the two girls read sections of the letters from their father Peter Lawrenson, a soldier in the war who has coded his account of the war in terms of fairies and dragons.
The explosion of a bomb near the station leads to different experiences for the sisters. Mabel is taken by fairies on an underground journey in search of her father. Meanwhile the station passengers hold a trial to consider if Anna's claims about fairies are true.
The Newbury Youth Theatre gives a very confident, engaging performance, which includes moving songs such as "There's a Long Long Trail A-Winding" and "There used to be Fairies in Germany".
There are also many striking images in the play. Early on, they form a line of soldiers marching to war. Later they become a 350-year-old ash tree. The show also includes puppetry and the projection of shadow soldiers moving across a bleak landscape formed from a line of suitcases.
This is a story about the suffering and loss of war both at home and abroad. As such, alongside the message of hope there are also moments of terrible sadness which make this play more suitable for older children.
In December 2015, as the House of Commons debated whether they should bomb Syria, a large group of young people mostly about the same age as Mabel stood outside. They had come straight from school in their school uniforms to stop another war. Their arms linked they sang for hours the old civil rights song "We Shall Overcome". Their confident certainty cheered the protest gathering.
By the time Parliament had again voted to kill people in another country, their voices were hoarse, but they were still convinced they were right. Like Mabel, they refused to accept that "no one will listen to children". Their voices mattered.
Reviewer: Keith Mckenna