Faith and Cold Reading
Shaun Prendergast
Live Theatre, Newcastle
(2011)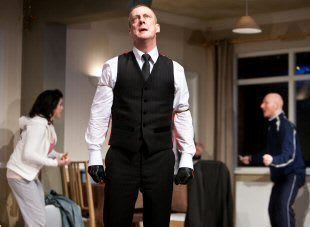 Patriotism, said Dr Johnson, is the last refuge of a scoundrel; I think it's equally true that categorisation is the last refuge of the critic. When you're not quite sure exactly what to say, how to reconcile conflicting reactions, then the temptation is look for parallels, spot influences, sort the piece into a pigeonhole and so feel you've done your job.
That was certainly my reaction to Shaun Prendergast's new play Faith and Cold Reading as I drove home from Live Theatre. Elements of Joe Orton, I thought, and perhaps a touch of Kafka-esque surrealism. Some interesting plot twists.
But, in fact, all that doesn't really say anything much. Perhaps a more apposite comparison might be to the famous curate's egg - excellent in parts. Although that doesn't mean that, like that famous egg, the whole is inedible.
The plot is simple: professional medium Sam (Christopher Patrick Nolan) owes £7,000 to thug Mickey (Paul Joseph). He, however, borrowed it from gangland hardman Freddy the Suit (Stephen Tompkinson) and Freddy wants it back. Sam's partner, lap-dancer Carla (Laura Norton), knows nothing of the loan and is intimidated by Mickey. Sam arrives home and reveals he can't pay it back. Then Freddy arrives and announces he will write off the debt if Sam can contact his mother whose funeral he has just attended. But is Sam the genuine article or a con-man?
Very Orton, especially as nothing is as simple as it seems on the surface and there are many twists and turns to come.
The problem is there is a lack of consistency in Prendergast's creation of the characters. Carla is very real and we can easily identify with her. Sam has a degree of realism, too, although it is the superficial realism of a character in a thriller or murder mystery where much of what is important is held back for the dénouement. Mickey, however, is an over-the-top comic book creation, a caricature rather than a character. And then there's Freddy the Suit. Dressed in a black suit with bright red lining, looking like a vampiric funeral director, the gaunt-faced Stephen Tompkinson makes him a monstrously frightening figure, a real psychopath.
And this is a reflection of the fact that the writer doesn't seem to have really decided exactly what the play is. Psychological thriller? Black comedy? An examination of our need to believe in something beyond ourselves and our lives?
Faith and Cold Reading is - to mangle another quotation - a play of two halves. The first is mainly black comedy but Prendergast doesn't quite bring off his attempts to make Mickey both threatening and the source of much of the humour, and that makes Paul Joseph's job almost impossible. A really violent episode in which he smashes Sam's face against a door, leaving a smear of blood which stays there for the rest of the play, doesn't sit well amid moments when we are invited - indeed compelled - to laugh at the pretensions of this would-be hardman. No light and shade in the character, no subtlety.
The second half, however, is much more sure-footed. There is still a leavening of humour but the tone is increasingly menacing. Significantly this part of the play mainly features interchanges between Carla and Freddy, and these scenes are powerful and compelling. This is partially because Norton and Tompkinson really inhabit their roles and have such strong stage presence so they are able to compel belief, but it is equally because they are the two best-drawn characters.
There are some tremendous coups de théâtre, at one my jaw almost bounced off the floor, but they will not be revealed here - the play, after all, has much of the thriller about it - and there is much there that is enjoyable. The audience certainly enjoyed it but for me, regrettably, it doesn't quite hit the spot.
Reviewer: Peter Lathan