Fallen Angels
Noël Coward
Bill Kenwright
Yvonne Arnaud, Guildford
–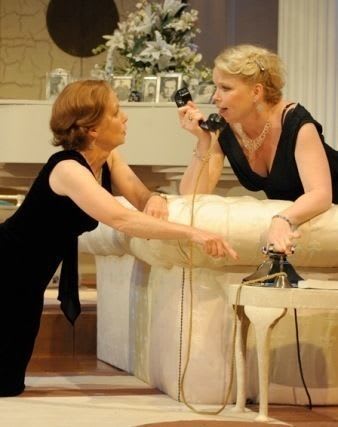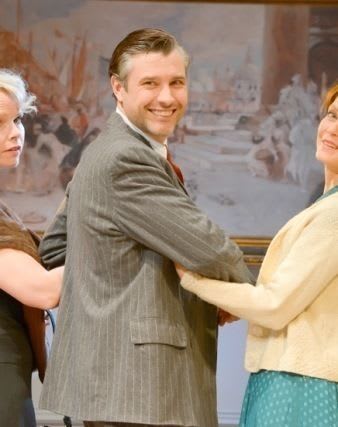 When the play premièred in the 1920s, the two 'Angels' were dubbed 'Suburban Sluts" by a shocked and outraged Daily Express.
As Coward writes in his autobiography "No epithet was spared. It was described as vulgar, shocking, nauseating, vile, obscene, degenerate etc..... All this was capital for the box office, and the play ran for several months."
In 2014 we are not so easily shocked and the play has to impress on other fronts. It is joyously lighthearted, very, very funny, full of surprises, and beautifully crafted as always with Coward. Strangely he wrote this at the same time as the highly dramatic The Vortex, the story of a drug-dependent young man and his relationship with his mother. His was not just 'a talent to amuse'.
The Fallen Angels in this play are Julia and Jane, happily married women but having reached a stage in their marriage when the passion has burnt itself out. Left to their own devices when husbands leave for a golfing trip, they fly into a panic when each receives a postcard from Frenchman Maurice an old flame, the same man for both, and he is coming to visit them in London.
He must have been something extra special as a lover as they are sure they will never be able to resist him this time around the only thing to do is leave before he arrives, but wait! Is that him at the door now?
Not this time, but he is expected, so a very quick change into elegant black evening dress sees them sitting at the dining table ready to receive him looking their best. There's only so long a girl can wait, and the next move is to crack open the champagne. As they get steadily more and more drunk, rivalries surface, tempers flare and it becomes very physical with more than insults flying around the room. Watch out for the profiteroles, and when did a pineapple become so funny?
The drunken scene is hilarious to begin with but, in my opinion (seemingly not shared by anyone else in the audience), it went on a little too long and was a little overdone, verging on the farcical. I do have to say though that the acting, expressions, and movement throughout are superbly performed, very credible, impeccably timed—and also very acrobatic.
Jenny Seagrove and Sara Crowe are best friends Julia and Jane, and are superbly cast as they complement each other to perfection, one sparking off the other as the dialogue increases in intensity. The play takes place in Julia's beautifully elegant and pristine London flat complete with white baby grand and chandelier (designer Paul Farnsworth), but please would someone iron the tablecloth.
The production belongs to Seagrove and Crowe, with meticulous direction by Roy Marsden, but there is also a marvelously comical performance from Gillian McCafferty as the maid they have decided to call Saunders. She marches on, gives her opinion on everything from piano concertos to hangover cures, and marches off, always absolutely correct having been everywhere and done everything.
Husbands arrive home to be horrified by their wives' behaviour and their explanation, but Maurice (Philip Battley) also arrives oozing with Gallic charm and a quick-thinking, face saving explanation.
I don't remember the last time I heard a theatre audience so convulsed with laughter for the entire evening. Need I say more?
Reviewer: Sheila Connor