The Fall of the House of Usher
Edgar Alan Poe, adapted and directed by Anastasia Revi
Laboratorium
The Old Cholmeley Boys Club, Dalston
(2010)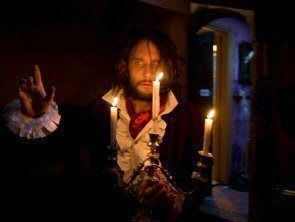 This site specific performance, presented by Laboratorium (described as the Baby of Arts Lab Company), converts the former boy's club into the candle-lit hall of the House of Usher.
Director Anastasia Revi and her team have created a potent atmosphere, welcoming at first with its red furnishings, comfortable seats and warm fire burning in the fireplace, especially on a cold wintry night. As your eyes get more accustomed to the light or you venture to explore, you discover a silent man sitting at a piano, a woman by the fireside and, on a long red velvet covered table, a man asleep, sometimes fitfully. You are shown to your seat by a black-draped, candelabra-bearing figure who offers refreshment as the audience gathers but this comforting atmosphere is shattered when the play begins.
The adaptation is a fairly free one, although it frequently uses Poe's own words. The story is told as much through physical means as text, developing a picture of Roderick Usher (Chris Gunter) and his cataleptic sister Madeline (Alex Marieka Hanly) succumbing to the curse of their family's inbreeding, indulging in opium smoking, hinting at incest, with the friend of Roderick (Noah Young), who visits at his entreaty, acting as narrator. The whole is carried on an atmospheric and dramatic score, composed and played by Kostis Kritsotakis, which incorporates the knocking on doors and banging on windows and the screams of the characters.
Revi has incorporated Poe's poem The Raven (or parts of it at least) into her play, making its recitation by the visitor the opening of the story with imaginative use of Yiannis Katsaris' video images.
The movement and images have considerable emotional power and, especially in the use of candles and the refiguring of furniture and props, a strong ritualistic element which enhances the feeling of this being a conjured image to be interpreted rather than a straightforward retelling. Indeed, the text is often not always comprehensible in an acoustically open space and sometimes overwhelmed by the music score. And though it is carefully spoken it is often very fast to match the score, needing more articulation to compete with the music (especially in The Raven) and, unsurprisingly perhaps when it uses Poe's own text, written to be read not spoken, it is channelled through the performer rather than being thought by the character which would have made for more natural emphasis..
The result is never actually frightening. Disturbing though Poe's original may be, this does not come over as a horror story but as an elegantly contrived artwork, something to observe and enjoy for the skills of its creators in producing such a totally atmospheric piece, rather than as a tale of horror to be shocked or moved by..
Ends 15th December 2010. The venue is at 68 Boleyn Rd, London N16 SJG
The company hope to take this production to other locations, watch their website for details: www.theatrelab.co.uk
Reviewer: Howard Loxton