Falstaff
Giuseppe Verdi, Libretto by Arrigo Boito, Based on the Play by William Shakespeare
Met Opera on Demand
Metropolitan Opera House, New York
From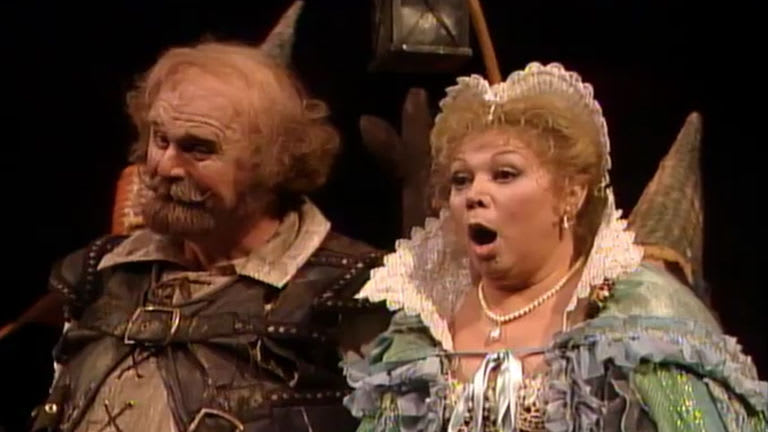 The legend goes that Shakespeare wrote The Merry Wives in haste in order to satisfy a royal whim. Queen Elizabeth I wanted to see Falstaff in love.
Sir John Falstaff has appeared in a bellyful of operas from Papavoine, Ritter, Dittersdorf and Salieri in the eighteenth century to Bishop, Balfe, Nicolai, Thomas, Adam and Verdi in the nineteenth century to Holt and Vaughan Williams in the twentieth century.
Giuseppe Verdi's Falstaff remains the best operatic version of the farce. The score is brisk, melodious and humorous. Everybody at its première in 1893 at the Scala, Milan, was amazed during the intensive rehearsals how on the ball Verdi still was in his 80th year
The Merry Wives of Windsor diminishes Shakespeare's greatest character. The Falstaff we now see on stage is but a foolish, pompous, fat-bellied impostor, a mere butt for two mischievous middle-class wives.
But Boito and Verdi, by drawing on Henry IV Parts I and II, give the old knight back some of the character he has lost. They take him seriously during his Honour monologue and also in that scene when he is sitting in a pub all alone, feeling very sorry for himself.
He had called on Mistress Ford and had had to hide in a dirty linen basket when her husband returned. The basket was then thrown out of the window and into the Thames.
In 1992, when this revival was being performed at the Met, the singers were still taking curtain calls after each act. Paul Plishka (excellent as Falstaff) took his curtain call solo and remained totally in character. It was a downcast man who took an unsmiling bow to the audience who has just been laughing at his misfortunes.
The final act, when he is dressed up as Herne the Hunter, antlers and all, is as nasty as it is in Shakespeare's play. The whole of Windsor, pretending to be fairies, turn up to make an old man a public laughing stock. The humiliation is out of all proportion to what he has done.
The last act is a real mess There are far too many people on stage, all bumping into each other. But Franco Zeffirelli's energetic production, which he also designed, is well sung, well acted and very enjoyable; and conducted by James Levine at speed, it comes in at 2 hours 8 minutes.
There are delightful performances from Mirella Freni as Alice Ford, Marilyn Horne as Mistress Quickly and Anthony Laclura as Bardolph. Perhaps the most surprising thing about this production is that, though the opera is sung in Italian and directed by an Italian, it doesn't feel Italian at all. It feels very English.
There are a number of ways of tapping into this opera and others at will. The Met Opera On Demand service offers annual ($149.99) and monthly ($14.99) subscriptions as well as a one-off payment ($3.99) for those who have limited time or only want to watch the occasional opera.
Reviewer: Robert Tanitch