Falstaff
Giuseppe Verdi, libretto by Arrigo Boito
Teatro Del Maggio Musicale Fiorentino
Opera di Firenze
–

Listing details and ticket info...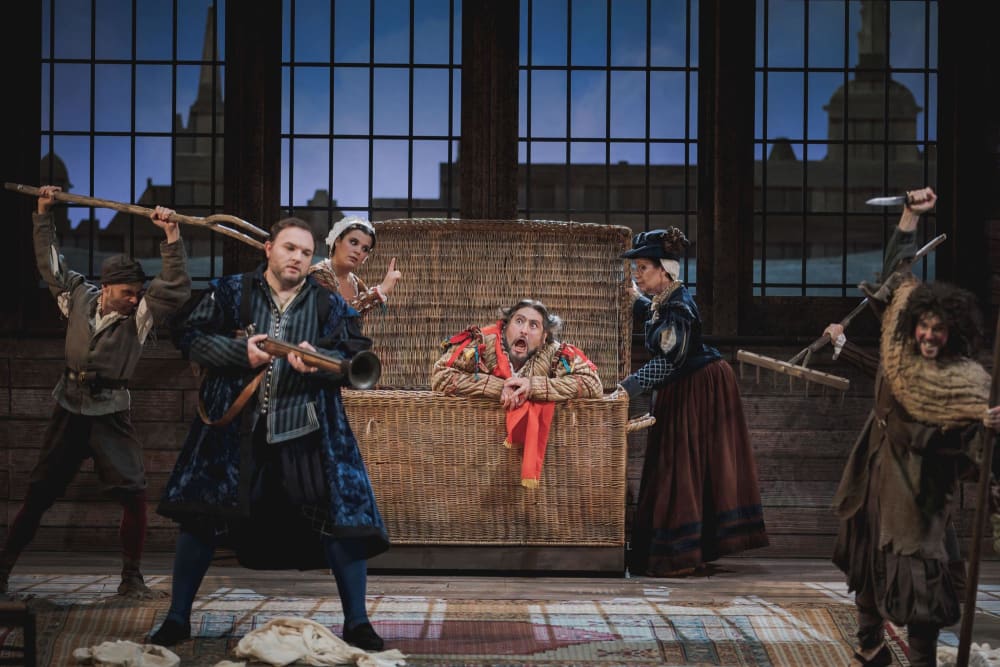 Queen Elizabeth wanted to see Sir John Falstaff in love. It was a royal command, Shakespeare could not refuse, and he dashed off a farce in a fortnight; or so the legend goes.
The old rogue, a coward, lout, sponger, braggart, glutton, drunkard, a mountain of obesity, is much diminished. He becomes a mere laughingstock for two mischievous middle-class wives he intends to seduce and rob. Hiding from an irate husband, he ends up in a dirty linen basket and is thrown into the Thames.
Falstaff has appeared in a bellyful of operas: 12 at the very least. Verdi's opera, which premièred in 1893 at La Scala in Milan in his 80th year, remains the best. The score is brisk, melodious and humorous.
The opera is a romp, an enjoyable joke, and the performance should be much funnier than it is. I wasn't really engaged by Sven-Eric Sechtolf's 2021 production until the final act when Falstaff is dressed as Herne the Hunter and humiliated and baited by the citizens of Windsor, who are pretending to be fairies.
Nicola Alaimo, in full command of the role, makes a big impact as Falstaff. He leads the whole company in the rousing, feelgood finale: "Everything in life is a jest, everyone is fooled." Ailyn Pérez and Caterina Piva are the merry wives. Simone Piazzola is jealous Ford. Antonio Garés is an amusing Bardolph. Sir John Eliot Gardiner conducts.
Fiorentino's Falstaff can be watched free on the OperaVision channel.
Reviewer: Robert Tanitch