Falstaff
Giuseppe Verdi
Opera North
Theatre Royal Newcastle-Upon-Tyne
–

Listing details and ticket info...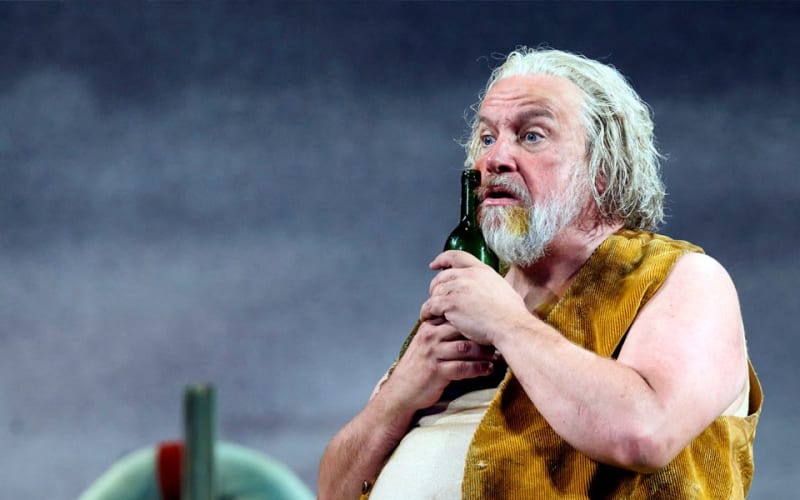 Falstaff is one of Shakespeare's larger than life characters, in more ways than one. While it is not one of the three most well-known of Verdi's operas—Rigoletto, La travatore and La traviata—it is certainly one of his most extraordinary. This last opera he wrote at the age of 80 is certainly comic and colourful.
The open set has a vintage caravan centre stage, Falstaff's abode, the spendthrift having fallen on hard times; his wing chair, sofa and standard lamp hat stand complete the setting with Deidre the deer; I do not know the significance of Deidre, except she was a charming addition to every scene, often balancing the set.
Doctor Caius (Paul Nilon) bursts on to the stage steaming mad to Falstaff (Henry Waddington), who plays the part with great relish, and the devious, deceptive, double dealing intrigue begins. Most become involved in some cunning conspiracy, plotting to outwit the other.
The scenery at the end of the first scene is well incorporated into the end of the scene, which then stops. I say stops as between each of the six scenes, the drapes come down and the house lights go up. While this opera and music is mainly jaunty and constant, these breaks disrupt the flow, unfortunately suspending the action and one's involvement with the story. Scene two finds the four girls, Mistress Alice Ford (Kate Royal), Nannetta (Isabelle Peters), Ford's daughter, Mistress Meg Page (Helen Evora) and Mistress Quickly (Louise Winter), on the tennis court revealing the identical love note Ford and Page have received from Falstaff. More scheming follows in act II setting the scene for act III, when all things turn out... well, what do you think?
The Italian Giuseppe Verdi, composer, musician and conductor, would have been 210 years old this month. In his 80 years, he wrote 26 operas and at 50 was so financially independent he could have retired but continued working. Aware of his early life, he became very involved with social work, and the retirement home he set up, The Casa Verdi, still houses artists and musicians. He began work on Falstaff in his mid-70s, and it was his first operatic comedy in 50 years. What is remarkable is the almost profligate abundance of its invention. Verdi was not standing still even though he was already responsible for some of the greatest operas ever written, an inspiration to all of any age.
Opera is a theatrical piece that tells a story totally through the music and singing, not a straight play, but certain stagecraft should apply. The right side of the stage was totally blocked to a lot of the audience being in line with the proscenium arch, so any action there was lost to many. While this may seem trivial, if Falstaff refers to very dirty smelly laundry, why was it all very clean and white when removed from the 'basket'? Why was the 'laundry basket' or linen box not pre-set, instead of being brought on during the action? A play, opera, any story relies on pace to maintain momentum which is also hampered by the breaks previously mentioned. One realises the disguises used by the country folk may have been limited, but would supposed fairies, elves and goblins have such sad, grey, miserable apparel?
In balance, the resplendent old oak tree made entirely of actual stag horns, which Falstaff wore as well, is also a witty play on cuckolding. While the music is quite jaunty and hasty, there are more romantic lyrical interludes between Nannette and her lover Fenton (Egor Zhuravskjj). Indeed, there is a lot of very rapid dialogu,e the understanding of which is helped by stage captioning. There are also a number of ensemble pieces which adds to the variety.
Falstaff, who appears in four Shakespearean plays, is a drunk womaniser, spendthrift, an invincible comic spirit with a passion for life and adventure. This Falstaff is more of a hapless clown, trapped by his own follies, a little sad, which may be the production's choice. Falstaff's panegyric to alcohol is, "for good wine dispels all the gloomy vapours." That is as maybe, but live music and singing certainly lifts the spirits, especially combined with witty humour. It is not always what you say but how you say it, such as "besotted with his enormous assets!" delivered by Winter with double entendre and excellent comic timing, which many of the cast have, is a delight.
First performed on 9 February 1893 at Teatro alla Scala, Milan. Opera North first performed it on January 1997 in Leeds Grand Theatre. This tour began in September and supported by the Falstaff Circle. It also is part of Opera North's Green Season setting "new benchmarks for sustainability across the theatre sector" and their "aim of becoming carbon neutral by 2030". So apart from enjoying a good story and opera, your attendance will also be supporting a very worthy cause.
Reviewer: Anna Ambelez