Fame the Musical
Conceived and developed by David de Silva, book by Jose Fernandez, lyrics by Jacques Levy, music by Steve Margoshes
Royal Concert Hall, Nottingham, and touring
(2005)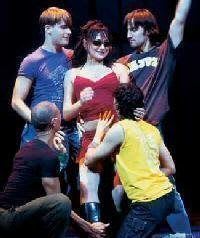 Producer Adam Spiegel took to the stage before the first performance at the Royal Concert Hall to deliver sad news about Ross Baker, who played Schlomo Metzenbaum. Spiegel announced that during the Christmas break Baker went to Thailand; he is now unaccounted for.
Press night in Nottingham was the first performance since the tsunami disaster. Spiegel said Ross Baker was an "enormously talented and versatile performer" who would leave a "huge void" in the company.
"Our hearts and thoughts go out to his family at this terrible tim," said Spiegel who added that the cast had dedicated the performance to Ross Baker's memory.
Taking over from him was Angus MacMillan. He had the unenviable task of delivering lines about the kids from Fame dedicating a song at their graduation to a colleague who'd died from a drugs overdose.
There were several poignant moments throughout the evening, none more so than when the whole cast sang the line from Fame, "I'm gonna live for ever". Commendably the cast produced a vibrant, energetic performance of which Ross Baker would have been proud.
Fame the Musical, like the feature film, looks at the tangled relationships between undergraduates at the New York High School of Performing Arts.
Fame is like most modern musicals in that there's not much of a plot because there's so much emphasis on the music and dancing. Fame has a cast of twenty, so there aren't many opportunities to get to know the characters, although there are exceptions.
Barbara Dickson has only a minor part as one of the teachers. Yet Miss Sherman reveals an incredible amount of herself in a song about the kids from Fame, These Are My Children. Miss Dickson isn't doing the whole tour - she's sharing the role with Janet Kumah.
The cast are hugely talented, some chosen for their musicianship, some for their singing ability, some for their dancing skills and others because they're such good all-rounders.
It would be unfair to single out anyone for special praise, although I enjoyed the portrayal by the tremendously athletic Craig Stein of Tyrone whose laid-back attitude disguises deficiencies in his upbringing; Leila Benn Harris, making her theatrical debut as Carmen, who would do anything to satisfy her all-encompassing ambition; Rachel Hale, the lovesick Serena who excels on Think of Meryl Streep; and Delia Harris, making her professional debut as Mabel who eats far too much to be an energetic dancer.
The choreography is stunning; the singing and musicianship are generally good and occasionally exceptional; and the acting is probably better than in any other modern musical I've seen.
Fame the Musical will no doubt be one of those shows which is revived year after year. But I suspect there'll be few performances as emotional as press night at the Royal Concert Hall.
"Fame the Musical" runs in Nottingham until Saturday, then tours to Ipswich, Cardiff, Grimsby, Milton Keynes, Poole, Darlington, Brighton, York, Blackpool, Tunbridge Wells, Bristol, Oxford, Birmingham and Crawley
Wayne Miller reviewed the show at the Sunderland Empire
Reviewer: Steve Orme