The Families of Lockerbie
Michael Eaton
Nottingham Playhouse
(2010)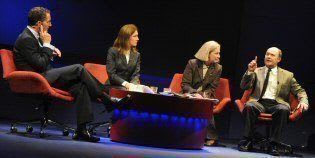 Michael Eaton must know more about the bombing of Pan Am flight 103 than possibly any other writer. Twenty-one years ago he wrote a television screenplay, Why Lockerbie?, which ended at the moment the plane disappeared from an air traffic control screen.
During his research he met several of the victims' families who all seemed to share the same desire for justice and to discover who was responsible for the atrocity.
He continued to follow the saga over the next two decades, in particular the extraordinary way that suspicion shifted from Palestinian terrorists to the two Libyans who were charged with murdering 259 people on board Pan Am flight 103 and 11 people on the ground.
When Abdelbaset Ali Mohmed Al-Megrahi, the only man to be convicted of the Lockerbie bombing, was released on compassionate grounds as he was suffering from terminal cancer, the families of the victims reacted totally differently.
Many of the British families accepted that Al-Megrahi should go free, despite his being given a hero's welcome on his return to Tripoli. They had even come to the conclusion that Al-Megrahi was innocent and had been made a scapegoat.
But families of the American victims were outraged and felt Al-Megrahi's trial ought to have been held in one of the United States where the death penalty is still meted out.
This forms the focus of The Families of Lockerbie. Eaton picks up where Why Lockerbie? ends, analysing how the families tried to come to terms with their loss.
The play features four fictional characters, Geoffrey (Robert Benfield) and Maureen (Joan Moon) who've lost their son in the plane crash and Laura (Jennifer Woodward) whose husband was another victim, along with a television interviewer (David Beckford) who gets them to tell their stories.
The cast also take on a number of other roles, everyone from Al-Megrahi and witnesses in his trial to Justice Minister Kenny McCaskill who announced the bomber's release, Secretary of State in the Clinton administration Madeleine Albright and Foreign Secretary Robin Cook.
All four perform magnificently; each has an enormous amount of text to learn for the one-and-three-quarter hour production played without an interval.
There's plenty of definition so that you're never bemused by the change from one character to another and for the most part their accents are authentic.
Eaton does an excellent job in showing how the relationship between Geoffrey, Maureen and Laura develops into a close friendship as they're united by grief only for their respect for one another to disintegrate when confusion about the bombers' identity leads them to different conclusions.
Nottingham Playhouse artistic boss Giles Croft who asked Eaton to write the play directs. He comes up with a riveting evening while Nathan Rose's simple set effectively conjures up images of the plane's damaged fuselage.
Occasionally the transition between scenes can be clunky while the cross-examination of Edwin Bollier, the man who was supposed to have supplied the timer for the bomb which brought down Pan Am flight 103, goes on for too long.
Apart from that it's a stunning production which deserves to be seen by many more people than those who will watch it over its short run in Nottingham.
As one audience member enthused on the way out, "I can see that being put on at the National."
Playing until June 19th
Reviewer: Steve Orme