Family Tree
Mojisola Adebayo
Actors Touring Company and Belgrade Theatre Coventry in association with Brixton House
The Drum, Theatre Royal Plymouth
–

Listing details and ticket info...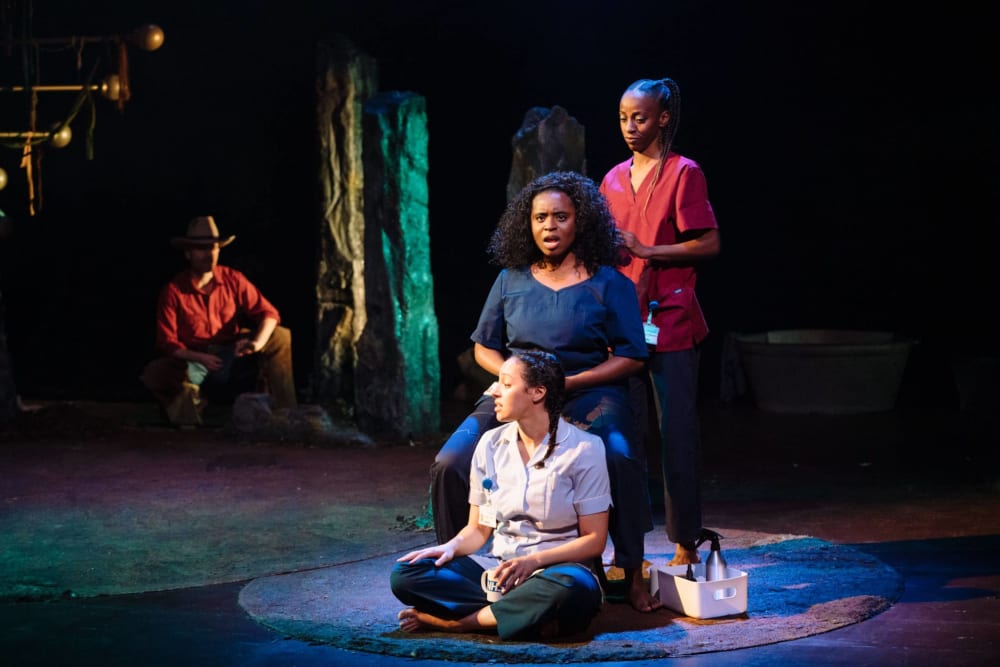 The astonishing true story of immortality and exploitation is somehow beautifully brought to stage dealing with horrific practices, abuse and exploitation.
Aminita Francis is an endearing Henrietta Lacks, caught in limbo. She may have died, from cervical cancer, in 1951, but she lives on through the ubiquitous HeLa research and life-saving medicines. So Mojisola Adebayo places her in a desolate, dusty, lonely place with rocks and a strange tree for company as she tells her story, interrupted with vignettes from three slaves and three NHS workers. And the Malboro Man drifts past now and then—perhaps in a bid to link the unfolding stories personifying cigarettes, illness and death.
The African-American mother of five died, at age just 31, at John Hopkins Hospital, Maryland, one of the few at that time that would treat black patients. But she paid an unknown price, as cells from her tumour were harvested without consent by white-coated 'organ raiders'—who may as well have been white-hooded says Lacks—creating the first immortal human cell line.
HeLa has contributed to the development of drugs for numerous ailments including Parkinson's, HIV, coronavirus, herpes and polio, saving some 10 million lives and creating innumerable others… and making millions of dollars for the company. Yet her poverty-stricken family only became aware of the theft recently, and then only through an offhand remark.
Lacks's story is heartbreaking. Descendant of a slave, captured somewhere unknown in Africa, probably Nigeria, and forced to work in a tobacco plantation, one of her children was 'simple' and suffered from epilepsy so was sent away to be cared for: care which involved her head being drilled open without parental consent.
And the unpalatable truths keep coming, with Mofetoluwa Akande, Keziah Joseph and Aimée Powell as three shuffling slaves on the plantation owned by the so-called father of gynaecology, James Marion Sims. The horrific experimentation he carried out, without anaesthetic, on his female slaves may have advanced medicine but at an unconscionable cost.
Entwined in these two meandering tales are the three NHS through and through staff whose somewhat extended tea break allows discussion of lineage, COVID, climate change, genetically modified chicken and lack of PPI—for the most part universal themes, so a tad out of kilter and which possibly dilutes the rest.
And central is the rather odd tree—the proverbial Family Tree—which summons Orishi, the Nigerian goddess (famously channelled by Beyoncé), harnessing spirituality, connections and truth in ritualistic dance and celebration of the black life that never dies and recognising the dreadful antecedents of modern medicine that the history books ignore.
At 95 minutes with no interval, a tad overlong, but the Alfred Fagon Award-winning piece is hard-hitting, engaging and powerful.
Reviewer: Karen Bussell