Familyman
Rikki Beadle-Blair
Theatre Royal, Stratford East
(2008)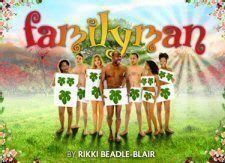 Only moments after curtain up Rikki Beadle-Blair's new play has the audience roaring their heads off. This picture of family relationships over three generations is perfectly matched to Stratford's multi-ethnic audience as it pieces together the story of Caesar, the black male of West-Indian stock who is destined to break the pattern of irresponsible parenthood and abandoned mothers and children. But that does not mean it isn't a hoot for everyone else as well. You may feel you need your ear-plugs for a few minutes of deafening rap (though according to a London paper reader's letter about musical volume that I read just before writing this 'if you find it's too loud, you're too old'), and there may be the odd word not in an Eaton Square vocabulary, but its conflicts between parents and children will feel familiar to anyone whatever their class or culture.
Did you mess up raising your children or, looking back, did you do a good job? Do you hate your parents or love them? And what about sex? Granny Grace waited until she was thirty before she 'fell straight under a man'; Precious, her daughter, was just seventeen. Caesar, the next generation and his white girlfriend Deanna were both 17 when she got pregnant and now their son Nelson is also becoming a father at just the same age. Caesar claims he would rather Nelson came home and told them he was gay than that he was going to be a daddy, Precious says its because Caesar never gave him a 'licking'-- which has Caesar picking up his belt.
From drunken granny to big sister Evita, turned off children and marriage by her own childhood, to the aspiring new generation we get to see things from everyone's angle and trace the pattern backwards seeing Caesar as thirty-something adult, teenager and child. This is a very serious look at the family that is hilariously funny. It is a world where people don't so much have conversations as ask questions (hand up Keisha, Nelson's girl-bride - yes they've got married!) or make statements. Even the opening has a feeling of multiple stand-up with parents on a mobile to a tipsy should-be-home Nelson.
Gary Beadle, as Caesar, has the audience in the palm of his hand from the start; it's a warm and delightful performance that gives the show a solid core, with Jo Castleton's Deanna, Ricci McLeod's Nelson and Ayesha Antoine's Keisha much more than supporting cast. Aaron Taylor is Nelson's rapping mate Che, Jo Martin Evita and Llewella Gideon both a drunk Grace and Precious, with a lovely scene where she suddenly decides to cook - this a woman who used to burn salad as he daughter remembers. Beadle-Blair's script gives every character their moment and director Dawn Read makes sure they take their opportunities in a swift moving production in Nick Barnes's stylishly simple sets with furniture gliding on and off, to replace trendy opulence with kitchen chaos.
Go for a great laughter night out and get some home truths rammed home at the same time. This is no bluffer's guide to parenting - this is it from the horse's mouth.
At Stratford East until 31st May 2008
Reviewer: Howard Loxton