Fans
Nina Berry
The Six Twenty in association with Live Theatre
Sunderland Stages at The Peacock, Sunderland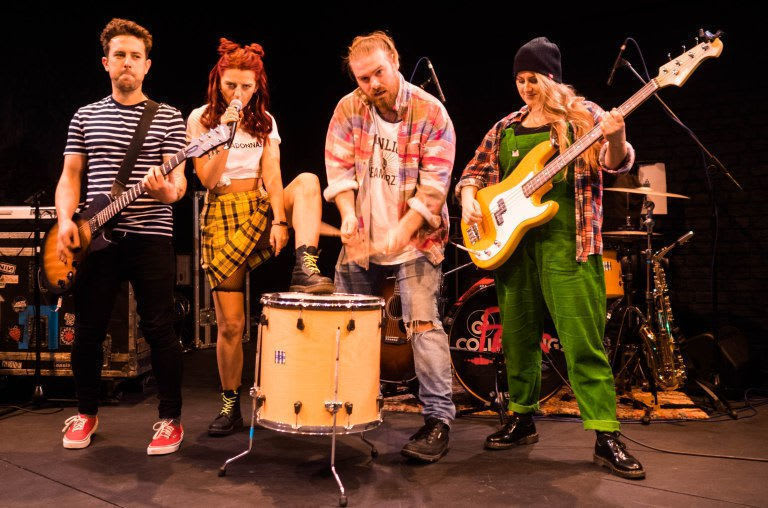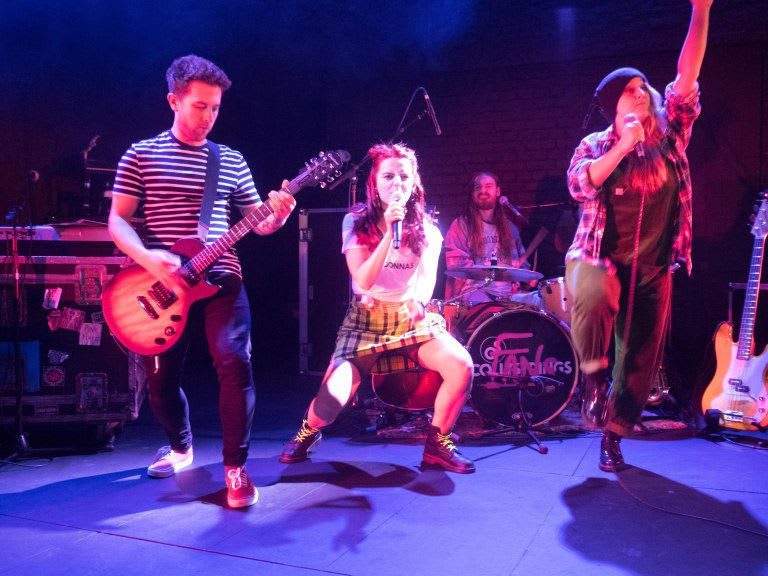 Fans premièred in 2016 and, for one reason or another, I was unable to see it then and have missed being able to see any of its subsequent incarnations, so it is great—and rather ironic—that I finally managed to see it on its last performance, the last gig of a successful tour which took it from Newcastle to London via Doncaster.
It's billed as gig theatre and "a show for anyone who's ever loved music", people who have moved heaven and earth and got into debt to see their favourite band(s) live, who have hitchhiked the length and breadth of the country to do so, who arrive at the venue early enough to get the very front. in short, it's a show for the real FANatics.
As one who believes that pop music died after punk (except for Queen and Bowie, and let's face it, Bowie was pretty rubbish in the '80s. I mean—China Girl…), I was a bit hesitant. Further billing that it "should be enjoyed at maximum volume" made me worry for my aging ears. However I felt I had to shoulder the reviewer's burden and so, with not a little trepidation, I made my way to the upstairs room where once, many years ago (and it was very many) (about 40!), I enjoyed a Jake Thackeray gig. A very different animal!
There were wristbands and glowsticks on the tables. Yes, tables. Cabaret style. At least we weren't expected to stand or crowdsurf to get a good view!
And then it started. And boy, was it loud! Worst fears confirmed?
Actually, I loved it! There was a whole range of music being played. Even The Beatles. And Madonna. Then there were a few audio clips of people talking about their love of music. Not too many; just enough to spark your interest. Then on to the story.
For yes, there is a story. It's about four people who are in the process of trying to create a band. The trouble is that, although they all have in common a love of music, each loves a different kind. Lead guitar Chris (Chris Foley) is a Green Day fan; keyboard player and lead vocalist Charlie (Charlie Raine) loves Madonna; drummer Andrew (Andrew Bleakley) adores ambient music, while Meghan (Alex Tahnee) (bass guitar and alto sax) loves so many different kinds of music and so many different artists she couldn't possibly name a favourite!
The writer, who somehow manages finally to unite these disparate individuals into a real group (as in band and group of friends), is Nina Berry who creates very real, believable and likeable characters whose stories are involving, occasionally amusing, and even a little moving. She is a very young writer—mid-twenties—but has already developed a distinctive style, a combination of insight and empathy and what feels like a genuine love for her characters. There were a number of times during the show when I thought, "Yes. That's Nina Berry alright."
Melanie Rashbrooke, who founded The Six Twenty and is the company's artistic director, directs Fans with a real sensitivity for the script and the music.
And don't spread it around, but at one point I could be seen waving a glowstick in the air…
Reviewer: Peter Lathan