Fantastic Mr Fox
Based on the novel by Roald Dahl, adaptation by Sam Holcroft, music by Arthur Darvill, lyrics by Darren Clark, Arthur Darvill, Sam Holcroft and Al Muriel
Nuffield Southampton Theatres and Curve in association with Lyric Hammersmith
Curve Theatre, Leicester
–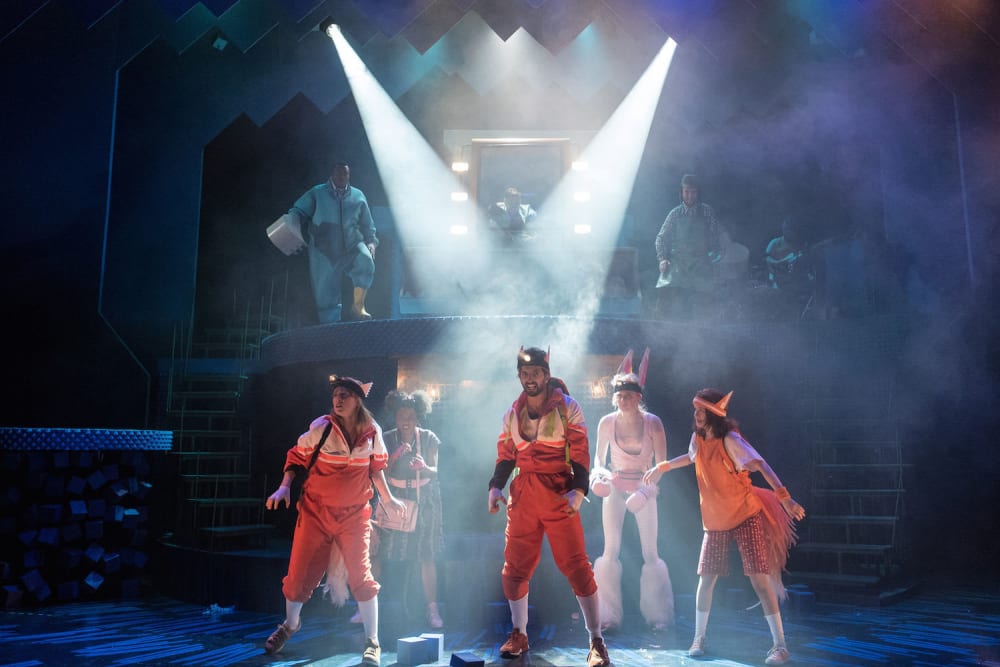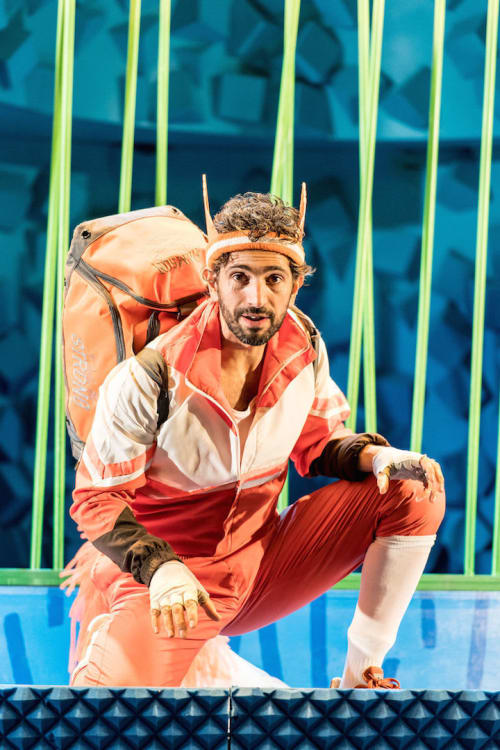 Master of the macabre Roald Dahl has provided a wealth of tasty material for film, TV and theatre over the years, and the 1970 novella Fantastic Mr Fox is now a Nuffield Southampton Theatres and Curve co-production, in association with Lyric Hammersmith.
In Sam Holcroft's adaptation, matters get off to a typically dark, Dahlian start: four sweet birds sing a capella until one is blasted from its perch by Farmer Bunce's shotgun. Farmers Boggis, Bunce and Bean aren't terribly nice and, fed up with the profits from their chicken farm being eaten away by Mr Fox and his family, the farmers decide to stake out the foxhole and starve the pesky animals out.
Despite losing his tail during a raid, Mr Fox believes he alone can solve the animals' food crisis, despite protestations from Mrs Fox, their daughter Kit and friends comprising a mouse, rabbit, mole and badger. The crux of this adaptation is that the loss of one's tail affects one's balance and decision-making abilities and Mr Fox eventually realises that, to coin an ill-fated presidential campaign slogan from 2016, we are stronger together. Nature succeeds where guns and humans fail, and the story is brought to a neat, and moralistic conclusion.
There are contemporary political echoes with this production: the farmers want the foxes out and their land back, Greg Barnett's messianistic Mr Fox preens and prances about, rather full of himself and unaware of his limitations, Rabbit (Sandy Foster) is a blond buffoon with a limited attention span. Rat (Richard Atwill) has a capitalist streak and no thought for society.
Sensible Mrs Fox (Lillie Flynn) waves the flag for feminist earth mothers—heavily pregnant, she ultimately saves the day with her cool head in a crisis. Kit (Jade Croot) also proves her worth, showing that sometimes a kid's excessive use of technology is worth it.
Perfect for the primary school market, this energetic production has several of the cast doubling well: Atwill is a two-faced, too-sozzled Rat and evil Farmer Bean. Gruffudd Glyn is manic Farmer Bunce and myopic but industrious Mole and Raphael Bushay is an organised Badger and dim-witted Boggis.
Designer Tom Scutt's three-tiered set, whilst used effectively, doesn't feel like there is a difference between the cold, exploitative world of the chicken farm and the 'natural' environment and it is difficult to shake the thought it is essentially a revolving wedding cake. Costumes are fun and quirky, with an '80s vintage sportswear look.
Arthur Darvill's musical score leans towards rock, including a particularly enjoyable Hendrix-inspired moment when Farmer Bean discovers he is, in fact, feelin' foxy. A team of four are credited with the lyrics (Arvill, Sam Holcroft, Darren Clark and Al Muriel) and, while there's a good mix of well-crafted musical styles, the overall feeling is of a not-quite-coherent whole. Such is its cleverness and complexity, though, much may be lost on the target audience.
Director Maria Aberg provides some memorable moments, with set-piece slapstick during Mr Fox et al's raid on the chicken farm and additional menace from the farmer's guard dog. Characters are immediately established well and we all root firmly for the animals, whilst laughing at the baddies. Holcroft also includes two Dahl essentials: gross-out humour and a nice line in alliteration.
Grown-ups are catered for with a few amusing references, although maybe worth preparing for the obvious post-show question from young theatre-goers of "if they are so hungry, why don't the foxes just eat the rabbit?". Ah, the magic of theatre.
Reviewer: Sally Jack