FANY
Devised by the company, script by Bips Mawson, adapted from a novel by Robert Radcliff
Anonymous is a Woman
Above the Arts
–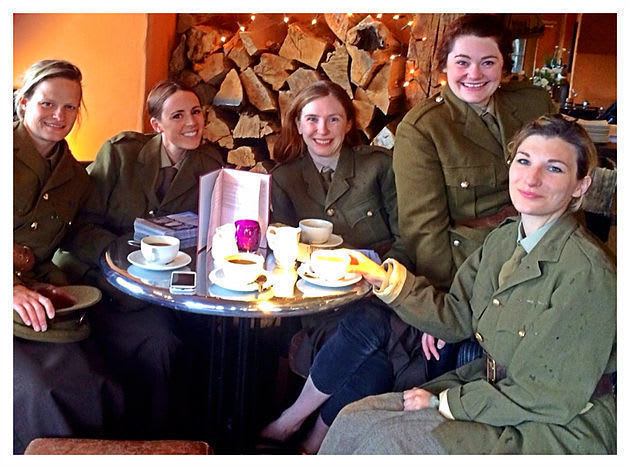 Based on first-hand accounts in the Imperial War Museum and the records of the First Aid Nursing Yeomanry (FANY), this is the story of a group of women ambulance drivers during World War One.
They would more likely have called themselves ladies. These were a select group of upper class volunteers who not only had to pay for their own uniforms and all other needs but actually fork out a fee for the privilege and even supply their own ambulances.
FANY had been in existence since 1907 when the Corps was established, the idea of a Warrant Office in the Lancers who thought it would be good if there were women to administer first aid on the battlefield before the wounded were taken to casualty clearing stations.
In 1913, they had an annual camp at Purbright and began a connection with the Brigade of Guards but when war was declared in 1914 the army wanted nothing to do with them. That didn't stop half a dozen women taking an ambulance across the channel where they began to drive ambulances for the French and Belgian forces: it wasn't until 1916 that they were at last asked to work for the British.
This play, created by the company, picks up their story with young ladies arriving at the London recruitment centre, elegant in their white dresses. Turning up a little late for her appointment is one woman who doesn't quite fit in: Emily Parker.
She doesn't have their posh accent or dress the same way. Evadne Bruton, the Corps commandant, can't see her alongside real ladies. How would she cope with her common background? But Emily seems determined; she is keen to work with horses, knows about motor vehicles and says she's enough money, so she's accepted.
"Park" supplements her resources by charging new recruits for passing on her expertise then, when they start to arrive better-trained wealthy colleague Phyllis Mason (of the Masons of Fortnum and Mason) provides extra funds.
This isn't just Park's story. The others in their team are Roberta (Bobby) Waldron and Angela (Angel) Truscott. And they really are a team both as ambulance drivers and as actresses. Working smoothly together they create environments from wire cages, travelling trunks and stretchers, enact intimate episodes and in narration passed between them conjure up action.
Aided by Dom Kennedy's sound design of traffic and battle noise, claxons, explosions and sirens they drive through the mud and the bombardment collecting the wounded offering comfort, trying to off as the load and unload them, bandaged and limbless, burned by phosphorus.
Madeline Gould is warm-hearted Mason, a big personality; Stella Taylor is Park, so full of determination; Leila Sykes is Bobby, who thought it was all going to be such fun and Bips Mawson is Angel, so eager for letters from her French colonel and Henri Merriam plays their Commandant, a Scots disciplinarian, not quite as hard-bitten as she presents herself.
Sometimes, in an instant role change, they will become a Field Doctor, a distant General or a man from the War Office—people who didn't want them there (to thwart them, saboteurs even cut the brake cables of some newly arrived ambulances) but this is the story of women determined to do their share. As Commandant Bruton says, they have to maintain discipline and order: willpower and diligence are not enough, they also have to keep up appearances.
These daughters of Empire from conventional backgrounds snobbishly look down on the VAD women, whose role was not as active, and they claim not to be suffragists but their experience changes them. After this, they can never go back to the world as it was.
FANY provides a fascinating picture of an aspect of the First World War little known about, excitingly presented with humanity and humour. It is not only an insight into history but also a very rewarding piece of theatre.
FANY is the headline show in Women in the West End, a month-long programme running until 3 April, in which Anonymous is a Woman is presenting plays, workshops, cabaret, comedy, play readings, networking and gender casting equality in celebration of women and girls and their creativity.
Reviewer: Howard Loxton