Far From the Madding Crowd
Thomas Hardy, adapted by Jessica Swale
Watermill Theatre Company
Watermill Theatre Newbury
–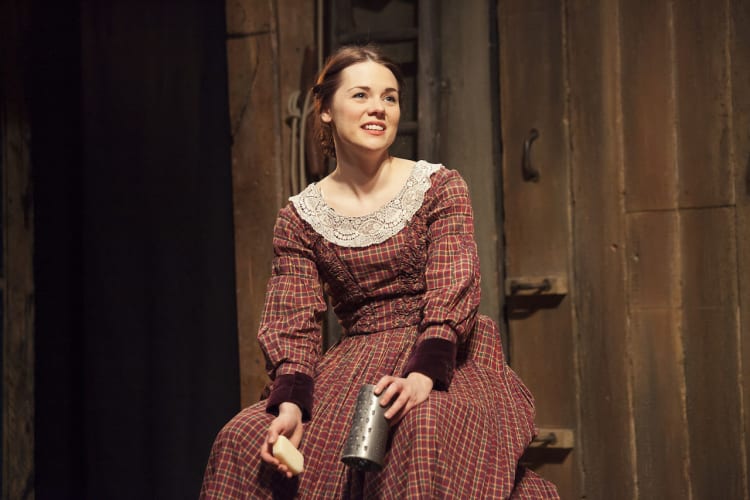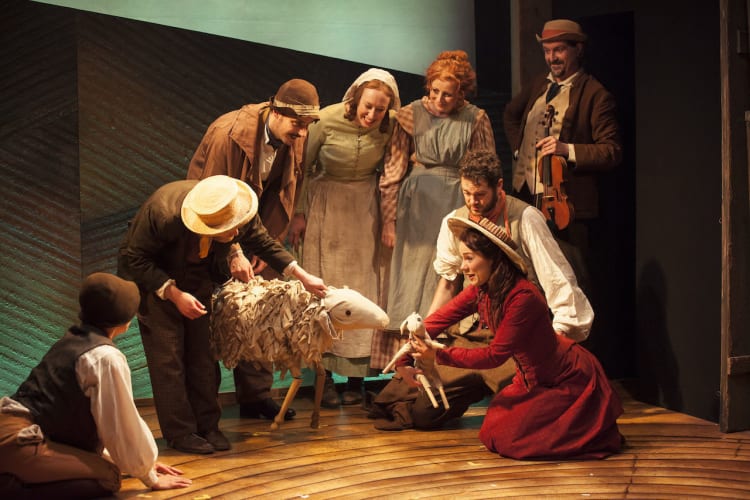 Jessica Swale's vibrant adaption of Thomas Hardy's Far From the Madding Crowd at the Watermill Theatre is a sheer delight.
Philip Engleheart's resourceful set oozes the idyllic rural county of Hardy's fictional Wessex with moving trucks that merge seamlessly with the Watermill's interior and is beautifully lit by James Whiteside.
From the moment the exuberant actors/musicians burst onto the stage with a jaunty rustic folk song, you know this is going to be a very different reworking of the classic novel.
Gina Beck gives a superb feisty performance as Bathsheba Everdene, a liberated, self-reliant woman who is determined to be an independent woman and manage her farm by herself.
Simon Bubb is wonderfully impressive as the steadfast reliable shepherd Gabriel Oak, who is saved by Bathsheba from a fire in a barn which results in an unrequited romance develops between them, but she moves away when she inherits her uncle's farm.
Gabriel falls into hard times when his flock fall over a cliff and he is forced to sell everything and seek employment, which he eventually finds with Bathsheba.
Introverted farmer Boldwood (Matthew Douglas) is a suitor for Bathsheba and is encouraged to pursue her when she sends him a Valentine's card in jest stamped "marry me" but it is Sergeant Troy (Sam Swainsbury) who wins her heart despite being a callous scoundrel.
Troy was really in love with the hapless deserted Fanny (Lisa Kerr) who also doubles as young farm worker Cainy.
There is superb support from both the stammering Joseph (Ed Thorpe) who is trying to propose to Mary Ann, delightfully played by Emma Jerrold, who is desperate to be married to anyone. Although it may take Joseph some time to get his words out.
Alice Blundell plays the gossiping Liddy with relish, Ian Harris gives a strong performance as Jan and they both provide most of the beautiful musical accompaniment on violin, arranged and created by Catherine Jayes.
There are some wonderful, inventive moments in Jessica Swale's skilfully directed production including touching sheep puppets that are totally believable, particularly when a new lamb is born and the problem with curing sheep bloat.
Harvesting the wheat by scything rush matting is ingenious and collecting the swarm of bees is hilarious and all adds to this glorious production.
This is an outstanding celebration of Hardy's novel, lovingly brought to life by a multi-talented cast who well deserved the enthusiastic applause from a very appreciative audience and is highly recommended.
Reviewer: Robin Strapp