FAR
Wayne McGregor
Wayne McGregor | Random Dance
Northern Stage, Newcastle
–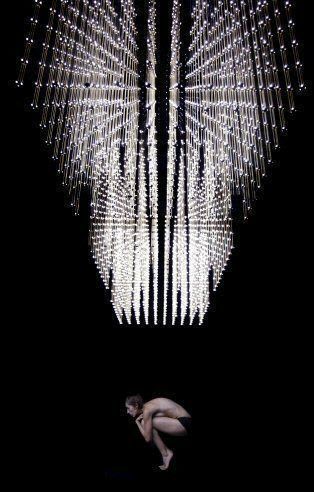 FAR is an acronym of the book title Flesh in the Age of Reason by Roy Porter which provides the inspiration for Wayne McGregor's latest dance piece, a relentless hour-long exploration of, so he tells us, the creative process based on the analogy of how, in the Enlightenment, scientists stripped away the surface (of, for example, the human body) to understand what lies beneath. This is very much part of his continuing collaboration with cognitive scientists.
The piece begins on a darkened stage, lit by four flaming torches, as a man and a woman dance to the accompaniment of the gorgeous voice of Cecilia Bartoli singing Giacomelli's Sposa son Desprezzata, an aria from the Age of Enlightenment which is probably best known from Vivaldi's use of it in Bajazet.
This first dance is fluid, clearly referencing classical ballet as well as more contemporary work, but this changes as the music segues into Ben Frost's dissonant and aggressive score, the torches go out, a very complex light panel springs into constantly changing action and the dance turns into the contorted, even deformed movement language which we have come to associate with McGregor.
From then on it is relentless: a world without colour, an overall greyness of costume and light (except, at one point, a red accent which has a disproportionate effect on the audience); sound which grinds and at times even hurts the ear; a multiplicity of encounters between the ten dancers in almost every possible combination - and they are encounters; there is little true meeting or real interaction here.
What I found particularly intriguing is the integration of the lighting: it's not a backdrop, a means of illumination, but rather a dancer (or character) in its own right. (And I have to say that, as one who has in the past been involved in lighting design, I couldn't help but wonder just how long it took to program it. Complex isn't the word!)
I didn't read the interviews and commentary in the programme until I was travelling home afterwards. Did the intellectualising, the explanation of influences, McGregor's fascination with the workings of the creative process really help to understand the piece? Not really. If a dance can be explained in words, then there's no real point in dancing it. It's what you see on the stage in front of you and the visceral reaction to it that matters, that gives us the "meaning" of the piece.
Reviewer: Peter Lathan