Far Away
Caryl Churchill
Out of the Blue (York University)
Theatre Royal Studio, York
(2005)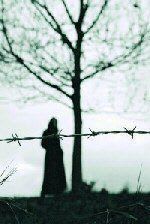 Founded in 1999 by Mike Cordner and Mary Luckhurst, Out of the Blue is the theatre company for the Writing and Performing initiative at York University. This is the company's first off-campus appearance, as well as being the first non-professional production of Caryl Churchill's mysterious and disturbing play.
A young girl (Panda Cox) staying with her aunt (Sophie Larsmon) at a remote farmhouse stumbles across a terrible secret. Her uncle is helping people to escape from an unspecified threat - or is he collaborating with their enemies? The girl sees him beating children ("There are bad children who betray their own parents") and disposing of a body, but we never find out what's really going on. Churchill's play premiered at the height of the war in Bosnia but this scene conjures up images of many conflicts, past and present.
A few years later the same girl is working as a milliner in a sinister factory, making elaborate hats for the "parades" that seem to be a popular form of entertainment (along with watching televised trials). Her co-worker (Paul Birch) has discovered evidence of wholesale corruption at the factory and exposing it could cost him his job, if not his life. Yet the couple seem more concerned with their low pay than with the uses to which their creations are put. In a dumb-show (beautifully choreographed by Jordana Hill and Mary Luckhurst) we see a procession of people in pierrot-like makeup and costumes - or are they concentration camp inmates? A young boy solemnly "crowns" them with extravagant hats and they silently leave the stage. Back at the factory the girl casually remarks, "It's a pity the hats have to be burned with the bodies".
When we next meet the two workers they are married and taking part in a bizarre guerrilla war. The old distinctions between social groups, adults and children, nations, even the human and animal kingdoms, have broken down. The elements take sides and time apparently repeats itself. The previous scenes, with their hints of ethnic cleansing and a totalitarian state, were merely a prelude to something even worse than the breakdown of society - it's the end of the world not only as we know it but as we've never even imagined it.
Far Away has taken on a new political resonance in these days of post-9/11 paranoia and the "if you're not with us you must be against us" mentality, but the play owes as much to the imagery of folk tales and dreams as it does to current events. It's a difficult play to bring off but Out of the Blue are more than equal to the task. Under Mary Luckhurst's direction the acting, movement and use of live music are all of professional standard. It's an impressive Theatre Royal debut, ideally suited to the Studio, and I hope to see more of Out of the Blue's work at this venue.
Reviewer: J. D. Atkinson